No Excuses workout 9
By Andy McKenzie published
This month's routine from strength coach Andy McKenzie shines a light on the areas that need improvement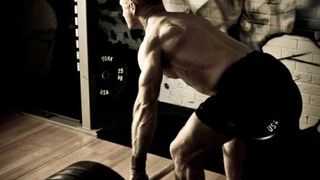 (Image credit: Unknown)
Training isn't about playing to your strengths. It should highlight weaknesses and areas that need more work. Use this No Excuses workout to find out if it's grip, strength, core, endurance or even just your mental fortitude that's letting you down.
The workout
For each rep on the bodyweight deadlift, hold the bar for five seconds at the top before lowering. With each rep add another five seconds to the length of time you hold it up.
At the top of each press-up hold the position for five seconds. With each rep add another five seconds to the amount of time you hold the position.
Sprint flat-out for ten metres, followed by ten seconds' walking.
Allow two minutes' recovery between each exercise.
The exercises
Bodyweight deadlift No straps needed for this full-body test of mind, grip and strength. Keep the bar close and take the weight through your heels on every rep. Focus on one spot as you count.
Target 12 reps
Tests Strength and grip

Press-up The aim is to distribute the load evenly throughout your body. A weak core will put more pressure on the shoulders and cause your hips to drop. Squeeze the glutes and maintain that straight line through your ankles, knees, hips and shoulders.
Target 15 reps
Tests Strength and core

Sprints Sprints are one of the simplest and best ways to get in shape when time is short. Make sure you attempt each run with everything you have to really earn that rest.
Target 20 x 10m sprints
Tests Strength and endurance
Do as many sets as you can until failure, then post your score in the comments below to let me know how you get on. Whichever area you struggle at most is a weakness that you will need to work on. Use my other No Excuses workouts to help achieve your goals – you'll find the grip workout here and the strength workout here.

I haven't done any workouts that specifically focus on core moves, endurance or mental fortitude, but every one of them incorporates all three in one way or another. So, what are you waiting for? Hit the gym, go hard and get fitter. No excuses!
Andy McKenzie is a UKSCA accredited strength coach, and a strength and conditioning specialist.
Sign up for workout ideas, training advice, the latest gear and more.
Thank you for signing up to Coach. You will receive a verification email shortly.
There was a problem. Please refresh the page and try again.