CrossFit workouts, part 4
By Nick Hutchings last updated
The fourth CrossFit Open Workout comprises just two moves but don't let that fool you into thinking you're in for an easy ride.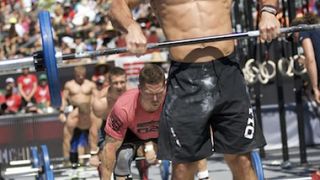 (Image credit: Unknown)
The toughness of the CrossFit Open doesn't let up with round four – a big old mess of clean and jerks and nasty toes-to-bars.
The ever increasing number of clean and jerks test your explosiveness, while the toes-to-bars require a serious reserve of core strength.
To get through this routine you also need serious grip strength and a good supply of liquid chalk.
The workout
For seven minutes, you'll ascend a ladder of increasing reps of clean and jerks and toes-to-bar. The weight of the barbell remains constant at 62kg, while the reps start with threes and go up by three each round. This is a timed workout so no quitting until seven vicious minutes are up.
7 minute AMRAP (as many rounds as possible) of:
3 clean and jerk, 3 toes-to-bar
6 clean and jerk, 6 toes-to-bar
9 clean and jerk, 9 toes-to-bar
12 clean and jerk, 12 toes-to-bar
15 clean and jerk, 15 toes-to-bar
18 clean and jerk, 18 toes-to-bar
And on...
Jordan Wallace, Owner and Coach at Reebok CrossFit Tyneside gives this advice about the workout. 'It's short but be careful to not go out the gates too quick and burn out. Also make sure you complete the full movement for each rep or it won't get counted and your hard work will be for nothing.
'Keep the barbell close to the pull up bar so you don't waste seconds on the transition between moves and, when it starts to really hurt, keep reminding yourself that you can always do one more rep!'
Wallace was speaking to promote the 2013 Reebok CrossFit Games Open, the world's most inclusive fitness competition. For more information, visit games.crossfit.com (opens in new tab)
Nick Hutchings worked for Men's Fitness UK, which predated, and then shared a website with, Coach. Nick worked as digital editor from 2008 to 2011, head of content until 2014, and finally editor-in-chief until 2015.
Sign up for workout ideas, training advice, the latest gear and more.
Thank you for signing up to Coach. You will receive a verification email shortly.
There was a problem. Please refresh the page and try again.