CrossFit workouts, part 3
By Joel Snape published
Workout three of the CrossFit Open combines power and technique. Nail your strategy with this advice from Games athlete Samantha Briggs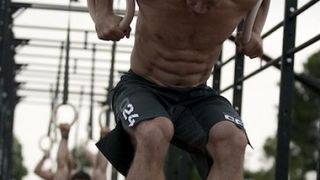 (Image credit: Unknown)
Week three of the Reebok CrossFit Open combines elements from several classic CrossFit workouts. First there's a brutal set of wall-balls, a workout in itself, but then things get really tough with two of CrossFit's signature moves. First there's the double-under, a classic skipping trick – whirling the rope twice for every jump. Then there's the muscle-up, which means going from a dead hang on the rings to above them, by combining a pull-up and dip. Here's the full thing.
The workout:
Complete as many rounds as possible in 12 minutes of:
- 150 wall-balls
- 90 double-unders
- 30 muscle-ups
Samantha Briggs is a CrossFit coach and is currently top of the leaderboard for this year's competition (she did 323 reps during Workout 3!). Here's her take on this challenge.
'A CrossFit workout like this needs approaching with a game plan. It's a high number of repetitions for each movement so setting bite-size numbers to hit will help mentally as well as physically. For example the 150 wall-balls can be done in six sets of 25, the double-unders in three sets of 30, and the muscle-ups in ten sets of three.
'When setting your game plan be realistic with the numbers you're trying to achieve. If you've never strung two muscle-ups together you can't expect to hit three, especially after you've pre-fatigued your shoulders on the wall balls and double-unders! You need to stay relaxed on the double-unders, arms down by your sides, using your wrists to spin the rope.
'Having a short break in between sets should ensure you don't reach full fatigue. Just make sure you are resting what you need and not just wasting time.'
Samantha Briggs, head coach of Train Manchester, was speaking to promote the 2013 Reebok CrossFit Games Open, the world's most inclusive fitness competition. For more information visit games.crossfit.com (opens in new tab)
Want more CrossFit workouts? You'll find parts 1 here and 2 here.
From 2008 to 2018, Joel worked for Men's Fitness, which predated, and then shared a website with, Coach. Though he spent years running the hills of Bath, he's since ditched his trainers for a succession of Converse high-tops, since they're better suited to his love of pulling vans, lifting cars, and hefting logs in a succession of strongman competitions.
Sign up for workout ideas, training advice, the latest gear and more.
Thank you for signing up to Coach. You will receive a verification email shortly.
There was a problem. Please refresh the page and try again.