Stay on track at the gym
By Sam Rider published
Don't be a gym quitter - avoid the reasons people bin the gym and keep on the path to a brand new body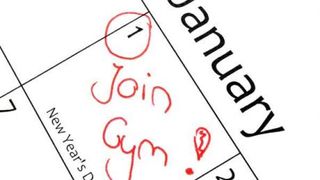 (Image credit: unknown)
At the turn of the New Year getting fitter is usually top of most people's priorities. But one out of every three people who join a gym in January break their resolutions by quitting after just three months. In the April issue, you'll find tips from trainer Lewis Thorneycroft of Protégé London (protegelondon.com (opens in new tab)) to help you stay strong beyond the end of March. Here are more of his suggestions.

23% …find going to the gym boring
'If your training feels a bit aimless, book yourself in for a spin class or one of the new and increasingly popular classes such as CrossFit. It will introduce you to challenging workouts. If you find it's too much for you, you can always scale it back depending on your fitness.'

24% …say gyms cost too much
'Most gyms offer flexible membership options as well as simple 12-month contracts – find out if there's a pay-as-you-go deal. Or pay for classes on an ad-hoc basis in combination with non-gym exercises such as sprint intervals, park workouts (do pull-ups on trees or dips on benches) and climbing.'
47% …will quit because of a lack of time
'If getting away from work in your lunch break is a problem, you can get an ultra-effective cardio workout in your office stairwell. Sprint up the stairs and walk down to get your breath back. Repeat as many time as you can manage.'

For more common sense advice, subscribe to MF - we'll give you five issues for £5. (opens in new tab)
Download a digital version of the latest issue from iTunes. (opens in new tab)
The new MF interactive iPad magazine is out now. Click here for a free trial (opens in new tab).
Image used courtesy of shutterstock.com (opens in new tab)
Sam Rider is an experienced freelance journalist, specialising in health, fitness and wellness. For over a decade he's reported on Olympic Games, CrossFit Games and World Cups, and quizzed luminaries of elite sport, nutrition and strength and conditioning. Sam is also a REPS level 3 qualified personal trainer, online coach and founder of Your Daily Fix (opens in new tab). Sam is also Coach's designated reviewer of massage guns and fitness mirrors.
Sign up for workout ideas, training advice, the latest gear and more.
Thank you for signing up to Coach. You will receive a verification email shortly.
There was a problem. Please refresh the page and try again.