Fitness tips from England rugby union stars
By Sam Rider last updated
England Rugby's elite squad players reveal the training secrets they hope will help them win this year's Six Nations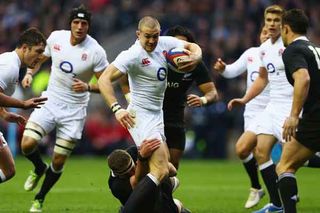 (Image credit: Unknown)
Freddie Burns, fly-half

Sprinting We do lots of sled runs and prowler pushes to improve sprinting over short distances. We'll put no more than 10% of our bodyweight on the sled or prowler so it doesn't change our running mechanics and time ourselves over 10m. We give ourselves plenty of rest and do three or four reps. I use lighter loads than the bigger players but aim to get as much power out over those short bursts. Running with sleds or prowlers makes you have to stay low to the ground as you drive your legs, which is pivotal for explosive speed off the mark.

Brad Barritt, centre

Power A way to help you improve your explosiveness is by using power bands when you squat. We hook them over the ends of the barbell and secure them to the floor or stand on them. Then when you drive up in the squat, the resistance will remain throughout the concentric phase of the lift, forcing your leg muscles to become more dynamic. You can also use bands in a similar way for deadlifts, bench presses and pull-ups.

Lee Dickson, scrum-half

Stamina Our training doesn't just focus on short sprints. For scrum-halves, doing longer distance running is key for improving our fitness. We're constantly moving, getting to the breakdown, linking phases of play, going from one side of the pitch to the other at a steady pace, so I do a lot of running over distances of 5km and 10km.

Ugo Monye, wing

Acceleration You don't get many chances on a rugby field to sprint a full 100m so there's not much point in working on that. Instead we'll focus on the 0-5m or 0-10m acceleration to burst through gaps in defence. For this you need strong glutes. They're your engine, where you get your power from. We do what I call single-leg sit-backs. Hold on to something in front of you while standing on one leg and bend that leg to lower yourself slowly before pushing back up. Single-leg bridges are also great for the strengthening the glutes.

George Robson, lock

Preparation Nutrition and stretching are two often overlooked aspects of fitness. I make sure I plan what I eat carefully. You need to know when to eat clean and when you can allow yourself some treats. Before a game I'll keep things consistent with a light meal of chicken, salad and wholemeal pitta. But you should try different things and experiment with food to find what works for you but make sure it's something you enjoy. That way you'll make sure you're eating the right stuff and won't be driven to pig out from boredom.

For flexibility I do yoga every Monday after a weekend game. I also use a Pilates 'Reformer' [exercise machine] to strengthen my core. Pilates exercises help develop core strength, open up the hips and protect the lower back and I find it helps me after the bumps and bangs I get on the pitch. Ultimately improving your flexibility helps with balance and stability and with that comes strength and power.


Jonathan Joseph, centre
Agility Some players are big enough to power through opponents but for others like me it's better to evade them. That's why an ability to step off either foot is so important. I did lots of sports growing up, especially tennis, and that involved footwork drills, ladder work, skipping and changing direction so agility is something I've worked on without even realising it. Being well rested for a game is also vital. You need to make sure you're as close to 100% before match day so taper your gym sessions in the days before.

Billy Twelvetrees, centre

Motivation At my club Gloucester we do Olympic lifting and variations with power and hang cleans to develop our game. Rugby is such an intense sport and you only get milliseconds to make decisions, so the explosiveness you can develop in the gym really helps you capitalise on the pitch. The sprinters are naturally powerful and can power clean about 120kg – I'm around that mark – but some of the forwards will be lifting really heavy weights. Every week we're setting new targets competing against team-mates who play in the same position and that competition is good in the gym because it really brings the best out of you. You should also identify your specific goals and train to help you achieve them rather than just lifting weights with no target in mind. My focus to succeed on the pitch motivates me in the gym.
Joe Marler, prop

Upper body There are so many bench press variations we do because it's such a key lift for upper-body strength. One of the best is the concentric bench press. Start with the bar resting on supports so it's just above your chest and press the weight above you powerfully before lowering it back to the start. When you go back to the normal bench press you'll find it will help you get through sticking points. For our game it's really helpful for hand-offs, fending off tacklers and especially for helping you get up off the floor quickly – that's so important. We'll complement chest moves with prone rows, reverse flyes and posture exercises to make sure our shoulders and back don't become rounded.
Tom Johnson, flanker

Balance My game is all about speed endurance so I can keep going for the whole match. We work on leg speed and power with prowlers and sleds but before that we have to look after our hamstrings. Bodyweight single-leg Romanian deadlifts are a great warm-up to protect the hamstrings and aid flexibility. We'll also use Bosu balls to improve our balance combined with woodchops for rotational strength to help us run more efficiently and avoid injury.
See the April 2013 issue of Men's Fitness to see how England full-back Alex Goode trains to develop his explosive speed and agility.

Get the latest behind the scenes news from Alex Goode and his England teammates with O2 Inside Line, the weekly show from O2 – proud sponsor of England Rugby – and the RFU. Go to O2InsideLine.com (opens in new tab) for more information and sign up for alerts by texting INSIDE to 61202.

Subscribe to MF - we'll give you five issues for £5 (opens in new tab), (opens in new tab) or download a digital version of the latest issue from iTunes (opens in new tab). (opens in new tab)
The new MF interactive iPad magazine is out now. Click here for a free trial (opens in new tab).
Sam Rider is an experienced freelance journalist, specialising in health, fitness and wellness. For over a decade he's reported on Olympic Games, CrossFit Games and World Cups, and quizzed luminaries of elite sport, nutrition and strength and conditioning. Sam is also a REPS level 3 qualified personal trainer, online coach and founder of Your Daily Fix (opens in new tab). Sam is also Coach's designated reviewer of massage guns and fitness mirrors.
Sign up for workout ideas, training advice, the latest gear and more.
Thank you for signing up to Coach. You will receive a verification email shortly.
There was a problem. Please refresh the page and try again.