Triathlon kit essentials
By Tim Don published
Triathlete Tim Don explains why, even if your training has been perfect, you won't be race-ready without these essential pieces of kit.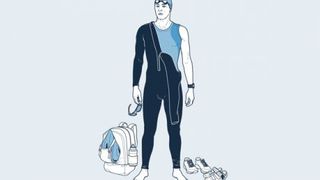 (Image credit: Unknown)
You've put in all the hard training hours and entered your first proper triathlon. So you're good to go, right? Not quite. You want to make sure all your hard effort is rewarded come race day, so make sure you have all the right kit. Here's everything you need to leave the competition eating dust.

Wetsuit
If you're taking part in a UK race that involves an open-water swim, you'll need one of these. Not just because it will prevent you from turning into a giant ice cube but because it's compulsory. Invest in a special triathlon suit that's designed not to chafe, to allow maximum freedom of movement at your shoulders and, handily, to make you more buoyant.
Tri suit
Let's be honest: no-one picks up a tri suit and says, 'I'm going to look great in this.' But this is a race, not a fashion show. A tri suit is lightweight and fast-drying and will fit under your wetsuit, so you don't have to change costumes in transition. The panelling is stitched and contoured to allow freedom of movement and prevent chafing.
Sunglasses
Shades aren't just for poseurs. It's important to get a pair that protects your eyes from the dirt and the sun and gives a good field of vision. You'll also want them to be secure so you don't have to fiddle to reposition them.
Tri bag
It may sound trivial but a robust and roomy tri bag comes in very handy. Go for one with plenty of compartments for all your different bits of kit, including a dry storage one for your wetsuit and post-race kit.
Goggles
It's essential to know where you're going when open-water swimming if you want to avoid obstacles and stick to the most direct line through the water. I prefer mask-style goggles, which give me a better range of vision. An anti-fogging pair with tinted lenses will help you see better in the sun. The most important factors are that they stay on and they're comfortable.
Training watch
A water-resistant heart rate monitor will allow you to keep tabs on your performance, both in training and in races, so you can spot where you may be letting yourself down. Get one with a speed and distance function for even more feedback on how you're progressing. Many models also allow you to download the data to your computer so you can track your long-term improvements.
Running shoes
Regular running shoes are fine – if you don't mind losing valuable time tying the laces. Every second counts when you're racing competitively. So go for triathlon-friendly brands that come with elastic laces, friction-free lining so you don't need to worry about socks, and a drainage system that lets water from the first stage slip out through the base.
Cycling shoes
You can wear regular cycling shoes but a triathlon-specific pair will save you time and effort in transition. Single Velcro strap shoes are quicker to get on and off than those with three straps. A seamless, quick-drying lining means you won't get blisters if you don't wear socks.
For more expert advice from athletes, sportsmen and professionals from the fitness industry, get Men's Fitness. Subscribe now and we'll give you five issues for £5. (opens in new tab)
Sign up for workout ideas, training advice, the latest gear and more.
Thank you for signing up to Coach. You will receive a verification email shortly.
There was a problem. Please refresh the page and try again.