Shoulder rehab exercises
By Max Anderton published
Harley Street specialist Dapeng Zhang describes some gentle exercises to aid post-injury recovery.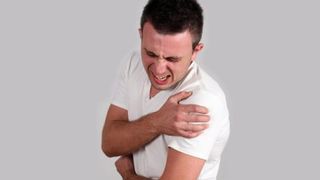 (Image credit: Unknown)
As anyone who's suffered a sports-related injury will know, it's vital to introduce movement back to the affected area in the right way. Using the correct exercises will speed up recovery and help ensure there are no problems in the long-term. MF asked Dapeng Zhang, a Harley Street massage therapist, for his post-injury rehabilitation exercise recommendations for key parts of the body. In the first part of this series, we're focusing on shoulder injuries.
Shoulder injury rehabilitation exercise
These are all resistance exercises intended to build and repair damaged muscle. They're suitable for anyone recovering from breaks, fractures and dislocations.
Arm raise
Hold your arm by your side with a slight bend in it, then try to lift it while someone else holds your elbow and applies a gentle downward force. A bungee cord held securely under the foot (don't let it snap back!) will also suffice.
Wall painting
Stand at arm's length from a wall and slowly move your hand up and down as though you were using a paintbrush.
Standing press-up
In a standing position, push off a wall gently with both hands. To start with, repeat a number of times that feels comfortable. Try to increase this every few days.
Picking an apple
Imagine you are trying to pick an apple from a tree but it's just out of reach. Stand on tiptoe trying to make every bit of yourself higher and taller to reach it.
'Although such exercises are necessary for recovery, it's important to listen to our bodies and gauge how they feel,' says Zhang. 'If you find an exercise painful, you're putting your body under too much physical stress to be beneficial. It can be frustrating when you want to speed up recovery but overly taxing an injury will slow down its recovery time and may even cause long-term problems.'
Look out for more injury recovery tips from Dapeng Zhang on the Men's Fitness website. For more about Zhang go to www.dapengclinic.com
Max was the head of digital content for Men's Fitness which worked alongside Coach between 2015 and 2019.
Sign up for workout ideas, training advice, the latest gear and more.
Thank you for signing up to Coach. You will receive a verification email shortly.
There was a problem. Please refresh the page and try again.