The Pennine Way's best one-day hikes
By Damian Hall published
Want to experience the Pennine Way but don't have time to walk the whole thing? Get a taste of the action with one of these sections.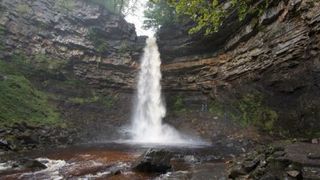 (Image credit: Unknown)
Byrness to Kirk Yetholm, 45km
Glorious, giant domes of wind-swept volcanic rock, with hardly a soul about. Admittedly it may be something of a stretch to walk 45km in one day, so take two. It's well worth it.
Middleton-in-Teesdale to Dufton, 32km
Flowery meadows follow the winding Tees past three waterfalls: Low Force, High Force and Cauldron Snout. Each will take your breath away. That's a pretty good day's walk by anyone's standards, but the best bit is still to come – the dramatic High Cup Valley.
Malham to Horton-in-Ribblesdale, 23km
Malham marks the start of glorious limestone country. From the beautiful village itself to the biblical Gordale Scar, Malham Cove, graceful Malham Tarn and a limestone pavement here and there, it's a unique and wondrous day.
Hawes to Tan Hill, 27km
More than any other, this day really does feel like walking along the backbone of England. After the Way's most spectacular waterfall, Hardraw Force, it's on to the marvellous moors and over the behemoth of Great Shunner Fell. Then through cute Thwaite, along the top of dashing Swaledale to finish with an altitudinous night at the Tan Hill Inn, England's highest.
Edale to Crowden, 26km
The Pennine Way starts like a Bond film, all action and glory from the off. The exhilaration of pounding the Way in clean boots and fresh socks is matched by the thrill of the wind riffling through your hair as you contend with the stirring Kinder Plateau.
Greenhead to Bellingham, 33km
On any other walk Hadrian's Wall would be the highlight, but the Way has so much splendour the Roman wall almost gets forgotten. You follow the legions' footsteps along one of the world's most famous historical sites for 12km, with views to match the heady sense of drama.
Damian Hall is the author of Pennine Way: The Official National Trail Guidebook, to be published by Aurum Press in May 2012. Buy it here (opens in new tab).
Sign up for workout ideas, training advice, the latest gear and more.
Thank you for signing up to Coach. You will receive a verification email shortly.
There was a problem. Please refresh the page and try again.