Taxing sports nutrition
By Monty Balback published
An alliance of UK sports nutrition companies has condemned plans to impose VAT on some types of sports nutrition.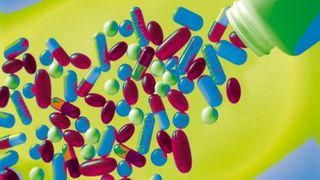 (Image credit: unknown)
One surprising and unwelcome outcome of the recent budget is that you could soon be paying more for your sports nutrition. Under the chancellor's proposals, some sports nutrition products - mainly carbohydrate, protein and creatine drinks - will be subject to the standard 20% rate of VAT for the first time from 1st October 2012, having previously been zero-rated for VAT.
The government has announced it will hold a shortened consultation of just six weeks on the tax increase and says that it expects the cost to each affected business to be an average of £40, an assessment that an alliance of sports nutrition companies is calling 'deeply flawed' and unrealistic.
The UK Specialist Sports Nutrition Alliance (UK SSNA) has condemned the chancellor's proposals, claiming the tax increase will constitute a tax on health and nutrition when the UK is facing an unprecedented obesity crisis and preparing to host the Olympics. The alliance says imposing additional costs on consumers could result in them purchasing unsafe, unregulated and untaxed products online.
Chris Whitehouse, campaign director of the UK SSNA (opens in new tab), said:
'With the Olympics around the corner and an ever-growing national problem of obesity, it makes no sense for the government to hike up the cost of products designed to promote good health. By cutting the length of its consultation, the government has showed that it expects to force this through with Parliament away for the Easter holidays. This measure is ill-considered, unwelcome and will either push consumers away from healthy products or towards alternatives they find on the web that will be unregulated and quite possibly unsafe. The government should be allowing the standard 12 weeks of consultation to ensure it has fully considered all the implications of its decision.'
Robin Holiday, managing director of CLF Distribution, the largest independent UK distributor of sports nutrition products, said:
'This is an extremely disappointing decision by the chancellor that will penalise members of the public looking out for their wellbeing. In the year that we're hosting the Olympics it seems quite bizarre that the government should be trying to impose a "health tax", when other less healthy food and drinks such as milkshakes, drinking chocolate and Jaffa cakes continue to be zero-rated for VAT.'
Andy McKenzie, a strength and conditioning coach and former trainer for the Crusaders rugby league club, specialising in sports-specific training, injury prevention and nutrition (opens in new tab), said:
'I have seen the proposal and think it's outrageous. Training hard, eating well and supplementing it with the right products is a way of life for me and the clients I train. Athletes, regardless of their level, train hard. This places considerable demand on the body to provide enough energy and repair muscles. The body has a window of opportunity after training in which the use of supplementation speeds up the recovery process leading to optimal gains, improved fitness and a healthier body. The fantastic thing about supplements is that even young athletes on limited budgets can still afford to take what is absolutely necessary to compliment their hard work. If the prices get hiked up they'll lose out.'
The UK SSNA has launched a petition (opens in new tab) that it hopes will generate 10,000 signatures on an open letter to George Osborne, calling for him to reverse his decision.
Notes
The UK SSNA is an alliance of UK-based sports nutrition companies that produce and distribute sports nutrition drinks. The alliance was formed on 29th March 2012 to campaign against the government's decision to introduce standard-rate VAT at 20% on the price of sports nutrition drinks from 1st October 2012. Members include Atlantic Multipower, Bodybuilding Warehouse, BodyTemple, BulkPowders, Cellucor, CLF, Consumers for Health Choice, Energy Active Ltd, Glanbia, HighFive, Kinetica, MaxiMuscle, MyProtein, National Association of Health Stores, NBTY, Performance Nutrition, Powerhouse-Fitness, Predator Nutrition, QNT UK, Reflex Nutrition, Sci-Mx, Smart-Tec PhD Nutrition Ltd, US Nutrition, USN and Weider.
Sign up for workout ideas, training advice, the latest gear and more.
Thank you for signing up to Coach. You will receive a verification email shortly.
There was a problem. Please refresh the page and try again.