Men's Fitness blog 30/04/09
By Coach Staff published
MF's Joel Snape found himself short of both knowledge and time to work out when he went to watch the Sailing World Cup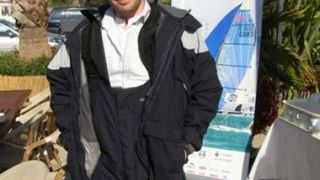 (Image credit: Unknown)
This week I've been out on the open waves, learning about a sport I didn't understand at all when I tried to watch it at the Olympics: sailing. I went to France to watch the fourth legs of the ISAF Sailing World Cup, where Skandia Team GB scooped five medals including gold for Laser Class champ Paul Goodison.

To get as close to the action as possible, I hopped in a rigid inflatable boat (RIB) – basically a dinghy with a massive engine – with team manager Stephen 'Sparky' Park, which in sailing terms is a bit like sitting in the dugout with Alex Ferguson, hoping to find out more. He gave me a quick guide to everything sailing, starting off with an explanation of wind patterns that I probably should have remembered from GCSE geography and then going into an in-depth explanation of terms, such as 'gybing', 'spinnakers' and 'fluky' weather.

A lot of it went straight over my head because we were right in the middle of the action, sometimes just metres away from the racing boats. Two things that just aren't obvious on TV are how fast everything goes and how fit the sailors have to be. When they do a fast turn, one will dangle over the side to counterbalance the ship – Sparky explained that they'll do weighted sit-ups or static holds to build the necessary abs strength – and they're constantly running around the ship, yanking its entire sail upright or ducking under swinging booms.

Most of the team are keen cyclists (opens in new tab) and all of them spend a couple of hours a day in the gym, which made me feel guilty enough to think that I should be working out myself. Whenever I'm away from the gym and pushed for time, one of my favourite ways of getting a workout in quick is with some Tabata intervals.
Invented by Dr Izumi Tabata, these consist of 20 seconds of maximum-intensity exercise followed by ten seconds of rest, repeated eight times for a total of four minutes. You can do pretty much any exercise you like, but it helps if it's something you can keep cranking out. Sprints and squats (opens in new tab) are good, T-pr (opens in new tab)e (opens in new tab)ss-ups (opens in new tab) get pretty tough and pull-ups (opens in new tab) are nearly impossible.
If you blast through four different sets of intervals, you can do a good workout in about 16 minutes. Give it a try next time you're struggling to fit a full-length workout into your schedule.

Coach is the place to come for all your health, fitness, and personal wellness needs.
Sign up for workout ideas, training advice, the latest gear and more.
Thank you for signing up to Coach. You will receive a verification email shortly.
There was a problem. Please refresh the page and try again.