Men's Fitness ed team blog 02/04/09
By Coach Staff published
This week Digital Editor Nick Hutchings has been competing at the British Ski and Snowboard Championships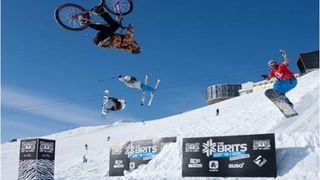 (Image credit: Unknown)
This week I've been at the British Ski and Snowboard Championships in Laax, Switzerland. I came out to enter the boardercross race for a feature that will appear in the mag at some point next winter.

Boardercross is a sport that borrows heavily from BMX racing. Competitors snowboard down a course packed with jumps and banked corners and they're allowed to push, shove and pull each other as they go. It features everything that makes a sport great – aggression, tactics, massive speed and huge crashes (opens in new tab).

I was in the masters category (speedy old codgers with attitude) and managed to do well enough in two time trials to make it through to the semi final, where I promptly got knocked out.

My mistake was tactical. Rather than going hell for leather, I decided to hang around at the back of my four-man heat and wait for other people to crash. No one did so I limped home in fourth place. I've learnt my lesson: boardercross is a sport that favours the bold and next year (yes, I will be back) the only tactic I'm going to employ is to go as fast as I bloody can.
As for the rest of the British Ski and Snowboard Championships, the level of riding was extremely high and is proof that, despite the lack of rideable mountains in the UK, our skiers and snowboarders are getting a lot closer to the cream of Europe and the US (opens in new tab).

There were also some awesome little asides to break up the competitive events. My favourite was the world's first bike-board-ski flip combo flip. The flippers were pro snowboarder Dom Harrington, pro skier James Webb and pro mountain biker Sam Pilgrim. They did it on the slopestyle course on the second day of the event. The fourth guy in the picture is another pro snowboarder, Johno Verity, who was filming it.

Even though these chaps know their way around massive jumps, it could have turned into a four-man manglefest of horrific proportions. Fortunately that didn't happen – they all managed to land their tricks cleanly. And in perfect synchronisation too! We'll be putting up footage of it on the site soon.

Coach is the place to come for all your health, fitness, and personal wellness needs.
Sign up for workout ideas, training advice, the latest gear and more.
Thank you for signing up to Coach. You will receive a verification email shortly.
There was a problem. Please refresh the page and try again.