Men's Fitness ed team blog 27/03/09
By Coach Staff published
Digital Editor Nick Hutchings kicks off the first weekly MF editorial team training blog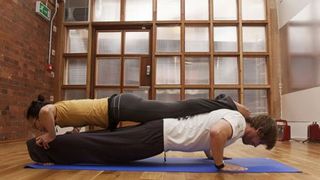 (Image credit: Unknown)
This week I've fallen off an eight-metre ice wall and been part of a collapsing two-man press-up tower. Frank Spencer, eat your heart out.

But despite the mishaps, it's been a great week's training – one of the best I've ever had. It's the first time for a long time I haven't had to fight the sense of ennui that can derail my weekly exercise routine, which normally consists of weight training (opens in new tab) and skateboarding (opens in new tab). This week I couldn't get excited about either of them so it was time to spread my wings a bit.

I decided to try ice climbing. Lots of mates bang on about the indoor ice wall at the Ellis Brigham store in Covent Garden, and I've always wanted to have a go on it. But climbing up a vertical sheet of ice with two hatchets just seems so wrong on so many levels.

Still, when clothing brand Patagonia (opens in new tab) invited MF (opens in new tab) to test some of its new cold-weather gear by scrambling up the wall in it, I put my trepidations to one side.
As I suspected, ice climbing is properly gnarly. I spent most of the time bouncing off the ice because I hadn't embedded the axe or the spikes on my shoes deep enough into the ice to take my bodyweight. But after half an hour of flopping around like a beached fish in its death throes, I finally got the hang of it, scrambled to the top and rang the Cowbell of Victory I found there. Never has a cowbell sounded so sweet. And the fierce ache across my upper body (opens in new tab) proved what a good workout it had been.

Yesterday I went to the press launch of London's newest dance and fitness studio Frame (opens in new tab), where I had a go at AcroYoga. Admittedly I had to be dragged into the class by a PR who wouldn't take no for an answer. But in hindsight I'm bloody glad she made me do it.

The benefits of yoga – increased flexibility, stress reduction, yada yada – are undeniable, but I'd always thought of it as the kind of dullsville activity suitable only for hippies in ill-fitting leotards and the bendiest of Indian holy men. How wrong I was.

AcroYoga is, rather unsurprisingly, a combination of acrobatics and yoga. What is surprising, however, is how macho a lot of the moves are. My favourite was the synchronised press-up tower.
One person gets into a plank, and another gets into a plank on top of them facing the opposite direction. Then you do press-ups at the same pace. Trying to keep yourself stable is seriously tough and I couldn't make it through more than a handful before I collapsed and caused the tower to come crashing down.

When the weather improves I'm going to get everyone at MF to go to the park to see if we can do a team tower. I reckon we could be on for some kind of world record.

Coach is the place to come for all your health, fitness, and personal wellness needs.
Sign up for workout ideas, training advice, the latest gear and more.
Thank you for signing up to Coach. You will receive a verification email shortly.
There was a problem. Please refresh the page and try again.