Sport's most heroic failures
By Coach Staff published
They say history is written by the winners. But sometimes losers achieve legendary status too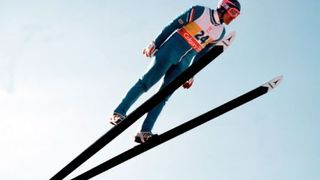 (Image credit: Unknown)
1 Eddie 'The Eagle' Edwards
It's easy to mock Michael Edwards for his attempts at ski-jumping during the 1988 Winter Olympics – he finished last in the 70m and 90m events – but the man known as Eddie the Eagle is the epitome of a heroic failure. Totally self-funded, he learned to jump in boots so big he had to wear six pairs of socks. If only the rest of him was as small: at 82kg he was 9kg heavier than his nearest rival. Despite this, and jumping in fogged-up bottle-bottom glasses because of extreme short-sightedness, Edwards set a British record of 73.5m, which stood for six years. His stab at a pop career with the song 'Fly Eddie Fly' was less heroic than his jumping but just as much of a failure.
2 Derek Redmond
Injury prevented British 400m former record holder Redmond from major track success throughout his career. His travails can be summed up by the 1992 Olympic Games in Barcelona. After posting the fastest time in the first qualifying round, Redmond went into the semi-final on fire. But after a strong first bend, his hamstring snapped in the back straight and he collapsed. Determined to finish, he got up and began hobbling towards the line, his face contorted with pain. Helped by his father, who had barged through security, Redmond crossed the finish line to a 65,000-strong standing ovation.
3 Lord Freyberg
The Governor-General of New Zealand from 1946 to 1952 spent his formative years not studying law, politics or economics, but making numerous futile attempts to swim the English Channel. On his closest attempt he got within a few hundred metres of the French coast where he paused to rest before one last push. Reports of what happened next vary – some claim strong rip tides sent him further out to sea, others that his wife leaned out of the accompanying boat to provide a 'fortifying' swig of brandy that knocked him out – but all have the same conclusion: Freyberg was pulled from water with his head in his hands.
4 Maurice Wilson
Convinced that fasting and prayer would enable him to achieve the mammoth task of conquering Everest, in 1934 Maurice Wilson hatched a plan to fly to Tibet, crash-land on the upper slopes then climb solo and unsupported to the summit. Despite knowing nothing about flying or mountaineering, and having no specialist kit, Wilson ignored multiple pleas to cancel his trip. A year after he was last seen alive another climber found Wilson's body, and his diary: the last entry read, 'Off again, gorgeous day'.
5 Trevor Misipeka
The American Samoan arrived in Edmonton, Canada, to take part in the shot put at the 2001 World Championships, only to find that a rule change to limit numbers in field events had forced him out of the event. Undeterred, the tattooed 133kg giant signed up for the 100m, clocking 14.28 seconds and finishing last, four seconds behind the heat winner. Still, he did record a personal best because he had never run that distance before.
6 Sir Ernest Shackleton
Until 1914, Shackleton could do no wrong, playing a leading role in the 'heroic age' of Antarctic exploration, but his luck ran out during his fourth polar mission. In his attempt to lead the first land expedition across the continent, everything that could go wrong did. His ship got stuck and then crushed by the advancing ice pack, forcing Shackleton's 28-man crew on to the ice. Miraculously they survived for months in treacherous conditions, some even crossing a 1,300km stretch of ocean in an open lifeboat, before being rescued in August 1916. The entire crew survived.
7 Christopher McCandless
Fulfilling a long-held ambition to live in solitude in the Alaskan wilderness cost Christopher McCandless his life. The signs weren't good even before he had left civilisation. Refusing to take food, supplies or a compass – his only guide was an ancient road map that didn't detail topography – the American somehow managed to survive for five months before succumbing to starvation. His story inspired Jon Krakauer's book Into The Wild (£7.99, Pan (opens in new tab)) and the 2007 film of the same name directed by Sean Penn.
8 Eric 'The Eel' Moussambani
Posting a personal best and national record at an Olympic Games would see many athletes contest a medal. Not so Eric Moussambani, the 100m freestyle swimmer from Equatorial Guinea, who in 2000 splashed his way to one minute 52.72 seconds – a time outside even the 200m world record. It was the first time he had seen a 50m pool, having qualified through a wildcard scheme to encourage developing nations.
Coach is the place to come for all your health, fitness, and personal wellness needs.
Sign up for workout ideas, training advice, the latest gear and more.
Thank you for signing up to Coach. You will receive a verification email shortly.
There was a problem. Please refresh the page and try again.