Joe Calzaghe
By Coach Staff published
The best pound-for-pound boxer in the world on peaking right, making the weight and his love of golf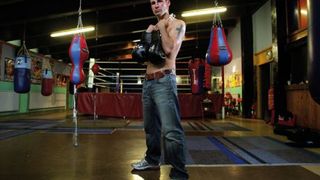 (Image credit: unknown)
How fit are you out of ten?
When I start training ahead of a fight I'm about a five on a boxers' scale, which I guess is around nine for a normal guy. In the final few weeks before the fight I will be a ten. Boxing is all about peaking at the right time. There's no point being a ten all the time because you just get stale.
Has training become harder as you've got older?
I'm as fit now [Calzaghe is 36] as I've ever been. I've been boxing a long time, and you get better at listening to your body and what it needs. I know my body so well that I can adjust my training to get into the shape I need to be.
Is it tough preparing for a fight after two months off?
I suppose it's like going back to work after being on holiday: the first week is tough but by the second you're back into the swing. I've been training since I was nine and I've a good heart and set of lungs, so it's never too bad. More often than not I'm hungry to get training again.
What's a typical day's training before a fight?
I've never seen the point of going for a run at the crack of dawn, so I'll go for a 30-minute run at about 10am. I'll either do hill sprints or a jog through the Valleys. I'll then do 12 rounds on the gym speedball with some bag- and pad-work. I'll also bang out 200-odd press-ups and sit-ups most days. In the four weeks before the fight I'll do 120 rounds of sparring to sharpen up my speed and fitness.
What's the worst thing about training?
The repetition. I've been doing this for years now. It's also hard making the weight: I'm naturally slightly more than 14st [89kg] but have needed to make 12st for most of my career. The worst part is being hungry the whole time. Training hard while cutting calories makes you feel like shit, but I channel the anger it gives me to my advantage.
Your next fight will be your last. Are there other sports you want to take up?
I'm a big football fan so I'll be having some kickabouts and I'm keen to get back on the golf course. I used to play every day but had to pack it in seven years ago after injuring my elbow. But I won't get back into boxing. Once retired, stay retired. I don't look like a fighter and I take a lot of pride in that. I want it to stay that way.

Coach is the place to come for all your health, fitness, and personal wellness needs.
Sign up for workout ideas, training advice, the latest gear and more.
Thank you for signing up to Coach. You will receive a verification email shortly.
There was a problem. Please refresh the page and try again.