Credit crunch home gym
By Coach Staff published
Financial meltdown doesn't have to hamper your fitness. Here's a home gym that can give you great results with minimum investment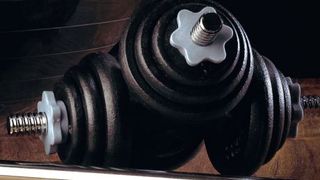 (Image credit: Unknown)
In This Series
If you don't have the funds or the space to invest in one of the set-ups in our home gym special, don't worry. Sure, it would be nice to have a big room full of shiny new workout gear, but if that's not an option, you can still exercise at home on a budget and get the body you want.

The essential kit you need to burn fat and build muscle is a set of dumb-bells, a gym ball and a pull-up bar. These versatile bits of equipment let you target every single part of your body and – unlike some of the fancy pricier options – they won't do any of the hard work for you. 'Machines, and to a lesser extent barbells, let you get away with being weak on one side,' says MF's muscle expert Jason Anderson. 'Dumb-bells mimic human movement, which helps give you better muscle symmetry. A gym ball is a good replacement for a bench because the instability increases muscle activation.'

Finally, no gym would be complete without a pull-up bar. 'Classic exercises such as pull-ups are a true reflection of your strength,' says Anderson. 'You're not in contact with the ground, so there's a greater potential range of motion, which activates more muscles and aids muscle growth.'
All these products are available at Argos (opens in new tab). Reebok 75cm gym ball £12.99, V-Fit pull-up bar £7.99, York 20kg dumb-bell set £27.99, Total: £48.97

You can use your budget ensemble for almost any exercise, but if it's a whole-body blast you're after, click on the images on left for Jason Anderson's eight-move workout. And go to our exercise (opens in new tab) section for loads of other great routines.
Coach is the place to come for all your health, fitness, and personal wellness needs.
Sign up for workout ideas, training advice, the latest gear and more.
Thank you for signing up to Coach. You will receive a verification email shortly.
There was a problem. Please refresh the page and try again.