Football
By Coach Staff published
Turn your gym strength into energy and speed on the pitch and get stuck in to the opposition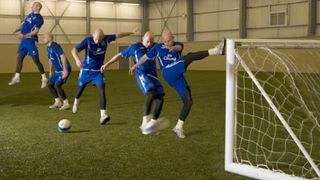 (Image credit: Unknown)
If you want to improve your football fitness then turning out for the Dog and Duck once a week isn't really going to cut it. You need functional strength and power, and explosive, plyometric exercises are the best way to build this. 'The reactive power of a Premier League footballer is phenomenal,' says Everton's head of sports science Dave Billows. 'I've worked with lots of athletes, including sprinters, and footballers can accelerate over the first 20 metres faster than anyone. The first five metres are so important in football because if your pick-up isn't quick enough, you aren't going to keep hold of the ball.'

But getting off the mark with lightning speed can play havoc with your joints. This means to avoid injury you need to follow a dynamic warm-up that fully activates your stabilising muscles in a controlled zone. 'At Everton, we do "pre-habilitation" to prevent injuries,' says Billows. 'A lot of the strength work we do is designed to tighten up the joints, and to give them more resistance to the forces they'll be exposed to during a match. You need flexibility but you need it under control.'
Workout to build a better sprint:
Plyometric box leap
Slec sprint
Lateral lunge run
Pre-match warm-up:
Lateral knee roll
Lateral step
Running squat brake
Football skill:
Coach is the place to come for all your health, fitness, and personal wellness needs.
Sign up for workout ideas, training advice, the latest gear and more.
Thank you for signing up to Coach. You will receive a verification email shortly.
There was a problem. Please refresh the page and try again.