Advertisement Feature
The Domyos Woodbike Is The Perfect Way To Cycle At Home
By Coach Staff published
With its stylish design and built-in tablet holder, the Woodbike will make your rides more fun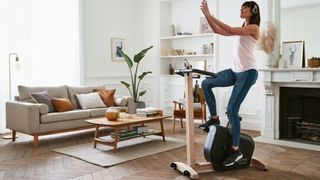 (Image credit: Unknown)
There's a good case for saying that an exercise bike is the best piece of home gym equipment you can pick up. Cycling is a low impact sport that most people can do regularly to increase their fitness, and an exercise bike is a relatively compact bit of kit that won't dominate your room.
The right exercise bike can even become a feature in its own right, like the affordable Domyos Woodbike. The only bike on the market with an entirely wooden frame, this stylish bike is made from French beech wood, making it durable, stable and particularly easy on the eye. The natural look of the bike helps it stand out as a piece of home gym equipment that actually enhances a room – whether you plan to put it in your lounge, bedroom or home office – rather than having to be hidden away in a corner.
Sustainability was also at the forefront of Domyos's thinking when it came to the manufacture of the Woodbike. The wooden frame (which makes up 47% of the bike) is made from natural beech wood, and the bike is handcrafted, which reduces carbon emissions in production. For every tree used to manufacture the bike, 10 trees will be planted through the brand's partnership with Reforest Action.
Along with style, you get substance, because the Woodbike offers all the key features you need to enjoy regular rides at home. The 6kg flywheel runs smoothly and silently, so it's easier to follow a training app or box set on your tablet, which you can conveniently rest on the holder integrated into the centre of the handlebars. Riders of different fitness levels can get the workout they need from this flywheel, which is also not so heavy that the bike becomes unwieldy to move. The Woodbike offers a range of resistance from 30 watts to 300 watts, and there are no presets, making it totally flexible.
Every effort has been made to make your rides as comfortable as possible too. There's a bottle holder on the frame so you can keep hydrated, and the gel saddle designed by bike specialists Btwin provides a high level of comfort and adapts to any body shape.
When you do want to move the Woodbike around, the travel wheels on the bottom of the frame make it easy, so your workout is never put on hold because the room your bike is in is unavailable.
The Woodbike is also simple to put together, coming in two boxes – one for the frame and one for the flywheel and accessories. If you're fearing a complicated construction process involving a lengthy, incomprehensible instruction manual, you can lay those fears to rest.
Once your Woodbike is up and running, it's ideal to use for low-intensity steady state (LISS) cardio exercise. While HIIT, or high-intensity interval training, tends to draw more headlines, LISS is a more approachable method of exercising that can help the majority of people stay in shape for the long term.
LISS involves raising your heart rate to a comfortable level for long spells of exercise – so over 20 minutes at a time. This improves your base fitness and cardiovascular health, and also brings with it mental health benefits in helping you to de-stress – something that's not always the case with a high octane HIIT session.
LISS also puts your body under less strain, which means you reduce the risk of muscle soreness the following day, and you recover faster from your exercise in general so you can do it more regularly.
If you're looking for a way to get fit at home, the Woodbike ticks all the boxes. At £349.98 (£149.99 for the frame and £199.99 for the mechanical parts), it's priced so a well-made exercise bike is accessible to everyone, and its sustainability credentials and stylish and innovatively designed wooden frame set it apart. It also offers a high level of performance to help you get fitter, while also making your training sessions more comfortable and enjoyable so you keep on coming back for more.
Find out more about the Domyos Woodbike (opens in new tab)
Coach is the place to come for all your health, fitness, and personal wellness needs.
Sign up for workout ideas, training advice, the latest gear and more.
Thank you for signing up to Coach. You will receive a verification email shortly.
There was a problem. Please refresh the page and try again.