The best snowboard boots
By Coach Staff last updated
Here are four of 2010's best snowboard boots.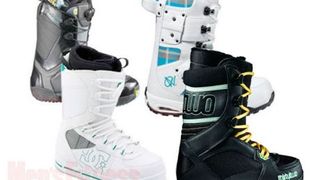 (Image credit: Unknown)
Rating 4
Thanks to its low profile midsole and bags of cushioning, the Ozone gives you magnified board control and reduces your chances of getting painful heel bruises when you come down hard on icy landings. It's light too, so it doesn't feel like your cruising around with a brick strapped to your foot.
Price £220
Available at Snow+Rock (opens in new tab)
---
Rating 5
As you'd expect, JP Walker's signature boot is packed with technical features that will come in handy ifyou're planning to get jiggy on a rail or off a backcountry kicker. Its STI Evolution foam outsole dampens down heavy impacts on hard pack, while its articulating cuff offers a comfortable fit, excellent heelhold and loads flex so you can throw all kinds of shapes on rails withoutfeeling like you're about to lose your boot or tear a ligament.
Price £150
Available from Subvert (opens in new tab)
---
Rating 5
BEST IN TEST
The thermal liner in the Andreas Wiig will keep your foot warm and your heel securely in place, while the exterior support cage protects your ligaments from trip-ending tweaks. Vans special Snowaffle sole uses a PU heelblock and an airbag to suck up bone niggling judder you get from maching it down lumpy pistes. In other words, this is one protective boot.
Price £185
Available at Snow+Rock (opens in new tab)
---
Rating 5
If you plan on spending your entire holiday spinning off kickers, this freestyle boot is a good choice for you. The shock-absorbing cup sole was originally designed for skate shoes so if it can handle 20-stair hucks to concrete, landing on snow is going to feel like dropping onto a sack of feathers. What's more, the Park's ergonomically engineered tongue and articulating cuff give you loads of flex without loosening up the boot.
Price £150
Coach is the place to come for all your health, fitness, and personal wellness needs.
Sign up for workout ideas, training advice, the latest gear and more.
Thank you for signing up to Coach. You will receive a verification email shortly.
There was a problem. Please refresh the page and try again.