The most glamorous bike show in the world
By Coach Staff published
If you're a keen cyclist don't miss this exhibition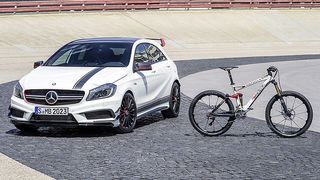 (Image credit: Unknown)
It might be hard to think of cycling as something that can be glamorous when you're battling your way up a hill in the pouring rain on your Saturday morning but LikeBike Monaco aims to be just that. A serious bike exhibition with a healthy dose of style.
The exhibition takes place over 2015's Easter weekend and focuses on companies which produce exclusive and bespoke products. Regardless of whether a company is showcasing slick road bikes, off-road powerhouses, or eye-catching "design" bikes everything is created with serious riders in mind. Here are three bikes to look out for when you're there.
Rotwild R.X45 AMG
The R.X45 AMG can handle almost any terrain you take it on, and it'll do it at speed too. Developed and handmade in Germany it's a legit contender in the trail rider space. It's mean looking and takes its name from Rotwild's partner AMG-Mercedes.
Neox Sporter
Want to tackle those incredible hilly routes across the Alps but don't quite have the legs for it yet? The Sporter is an e-bike that helps give you that little extra pep to help you along, although not as much as some e-bikes that are happy to do all the work for you.
Keim Arvak
French design studio Keim has created this unique looking bike that'll definitely turn heads at the traffic lights. The wooden frame is a monocoque frame means it supports weight via an outer shell, similar to an eggshell.
For more information visit likebikemc.com (opens in new tab)
Coach is the place to come for all your health, fitness, and personal wellness needs.
Sign up for workout ideas, training advice, the latest gear and more.
Thank you for signing up to Coach. You will receive a verification email shortly.
There was a problem. Please refresh the page and try again.