The Best Jeans For Men Of 2020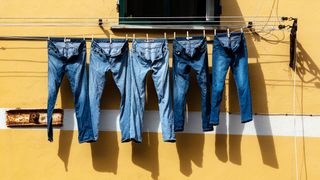 (Image credit: Unknown)
We don't need to tell you about the merits of finding a well-fitting pair of jeans. Pulling on denim that not only looks good but feels good after days, weeks, probably months of searching, is one of life's great pleasures. Glorious stuff.
But what we can – and will! – tell you about are the very best trusty blues (and blacks and beiges and whites). For we have seen the future (read: spent a very long time trawling through the wares of our favourite masters of denim) and can report that your legs are about to look better than ever.
From the stripy to the stretchy, right through to a set of Welsh-made winners and a pair of having-a-moment striped carpenter curveballs, these are the best jeans you can bag yourself this season.
---
(opens in new tab)
We hope you're sitting comfortably, because we're about to impart a heartwarming story. In spite of the name, the Welsh town of Cardigan is steeped in jeans history, so much so that at one point 10% of its population was employed in the denim industry manufacturing a staggering 35,000 pairs per week. That was until production was moved to cheaper pastures, but the knowhow remained and many years later Hiut Denim Co employed that skill to get the denim industry of Cardigan humming again. Now you can expect high-quality, low-run selvedge denim created by hands that know how to do it best.
Buy from Hiut (opens in new tab) | £240
---
(opens in new tab)
From the accident-prone coffee spiller to the wannabe hip-thrusting Iggy Pop to the full-time mime artist, everyone needs a pair of brilliant black jeans in their arsenal. And Edwin's dark dark denim in the brand's most popular silhouette definitely fits the bill.
Buy from Edwin (opens in new tab) | £110
---
Nudie Grim Tim Desert Worn
(opens in new tab)
Of course the most American-looking jeans are a set of true blue yee-hawin' boot-cuts. Unless… unless you're gazing at a pair that takes colour inspiration from the sandy canyons of the western states which – would you believe it? – you absolutely are. They're made from organic denim and in a comfortable but flattering slim-fit straight-leg cut, and we'd like nothing more than to ride off into the Friday sunset wearing these.
Buy from Nudie Jeans (opens in new tab) | £120
---
(opens in new tab)
If you're running after your kids or chasing down a bus, denim – particularly the stiffer selvedge stuff – can feel a bit tight. Not in Levi's 501 Skate jeans, though. Engineered to withstand regular beatings from kick-flipping cool kids, each pair has Lycra fibre woven into it, Cordura fibre added for super strength and a reinforced construction on stress points for extra durability.
Buy from Size (opens in new tab) | £70
---
(opens in new tab)
From respected designer Ichiro Nakatsu – who, after years of collecting rare and heritage clothing, has built an unrivalled knowledge of vintage fashion – OrSlow is one of the most talked-up brands in menswear right now. Nakatsu's clothes, including these denim winners, take the silhouettes and cuts from his extensive archive, and add modern details. In short, these things are extremely cool.
Buy from Mr Porter (opens in new tab) | £240
---
APC New Kaplan Drawstring Pant
(opens in new tab)
We really could have done with these in early June, when we struggled with the shock of transitioning to actual trousers after weeks of wearing nothing but lockdown joggers. Clearly inspired by the rising popularity of the climbing trouser, incorporating the same relaxed-to-baggy fit, drawstring and throwback 90s vibes, these jeans couldn't be more off-duty if they tried.
Buy from End Clothing (opens in new tab) | £169
---
Dickies Rhode Island Jeans
(opens in new tab)
Shock! Horror! The cheapest pair of jeans in our run-down aren't from a high street shop, but grease 'n' dirt-loving American workwear wizards at Dickies. Splatter them with paint. Tear them on barbed wire. They looove it.
Buy from Dickies (opens in new tab) | £65
---
Dubbleware Avignon Carpenter Pant
(opens in new tab)
Levi's, Wrangler, Carhartt, FCUK and GAP are all throwing fuel on the carpenter jeans fire right now. It's a trend that's got the fashion-forward jeans lover looking as if they're about to lay some serious flooring at the weekend. Loops, hooks, big pockets and a baggier fit are the components of this style, and of all the options we've seen, Dubbleware tops our wish list.
Buy from Dubbleware (opens in new tab) | £165
---
(opens in new tab)
Could there be a more city-ready set of jeans than this regular-fitting organic denim pair with a cropped leg that gives just the slightest ankle flash? Wear them with white Reeboks and some vintage sportswear up top for a foolproof weekend outfit.
Buy from Arket (opens in new tab) | £69
---
Acne Studios Max Slim-Fit Distressed Denim Jeans
(opens in new tab)
Bruised and battered jeans are an acquired taste. For those who fancy a little worn-out edge but prefer not to look like they've had a run-in with a hedge trimmer, Acne's beat-up Max Slim-Fits are a solid choice.
Craft beer drinker, Devonian, fisherman and former content director of Coach online, Chris contributed style coverage and features between 2016 and 2019.
Sign up for workout ideas, training advice, the latest gear and more.
Thank you for signing up to Coach. You will receive a verification email shortly.
There was a problem. Please refresh the page and try again.