The secrets of shaving
By Coach Staff last updated
Top tips on how to stay fresh-faced and cut-free when shaving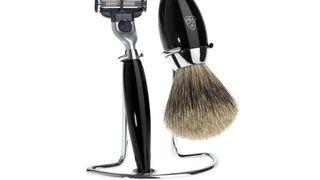 (Image credit: Unknown)
Make a mess of shaving and you could end up with a face as mangled as an undead extra's from a George Romero zombie flick. But not if you follow these simple tips from American Crew's International All-Star Educator Ian Harold.
Open your pores
'It's important to give your face a thorough clean with warm water before you start. Not only does it wash away dirt but it'll open up your pores and soften stubble, decreasing their resistance to a razor.'
Shave with the grain
'Use a sharp razor and shave in the direction of hair growth. This will reduce your chances of getting ingrown hairs.'
Close your pores
'Using cold water after shaving will close your pores so dirt can't get into them and cause spots or blemishes.
Dry your face
'Resist the urge to rub your face dry with a towel, instead pat it dry to avoid the risk of irritation.'
Soothe your mug
'Avoid using face products that contain a lot of alcohol post-shave because they can cause your face to swell. Instead, use a light skin moisturiser to calm irritation and hydrate your face.'

For more information on the new American Crew shave collection or to buy online, check out the American Crew Shop (opens in new tab)
Razor and brush, shaving tips
American Crew Shaving
Coach is the place to come for all your health, fitness, and personal wellness needs.
Sign up for workout ideas, training advice, the latest gear and more.
Thank you for signing up to Coach. You will receive a verification email shortly.
There was a problem. Please refresh the page and try again.