There's More To Baywatch Co-Star Zac Efron Than Meets The Eye
By Josh Dean , Men's Fitness published
From musical theatre, to teen heart throb, to going off the rails to "shredded human Ken doll" – it's been quite a ride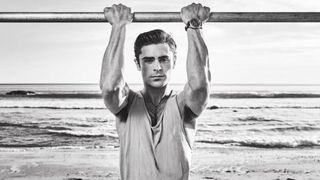 (Image credit: Unknown)
If you want to see Zac Efron with his shirt off, you won't have to search too long for the right film. In 2016 alone you had Bad Neighbours 2, in which he was frequently shirtless, and Mike And Dave Need Wedding Dates, which displayed his abs on the poster.
And now there's this summer's big-screen adaptation of 1990s TV series Baywatch, in which he's routinely running on the beach wearing – no surprise here – nothing more that those legendary red trunks and a whistle.
A quick search online for Efron yields hundreds of pictures of him in the shape of his life, while looking him up on Instagram leads you to his many, many recent beefcake photos from the Baywatch set, where he and co-star Dwayne "The Rock" Johnson evidently spent their spare time engaged in bare-chested tyre-flipping contests.
RECOMMENDED: What We Learned From Insta-Stalking The Baywatch Cast
Though Efron, now 29, worked very hard to achieve his physique (the same shirtless torso that, in 2014's Bad Neighbours, caused Seth Rogen's character to say, "He looks like something a gay guy designed in a laboratory") and works even harder to maintain it, he's also aware the subject has begun to spin out of control.
The breathless online coverage of his pecs, lats, and delts expands daily, ranging from fawning ("This Woman Spraying Zac Efron's Body Has Your Dream Job!") to potentially disturbing ("Are buff male stars like Zac Efron driving young men to drugs and eating disorders?").
Efron appreciates the love but as a guy who spent years running away from the first, extremely popular, version of himself – Zac Efron, Pretty Boy Teen Idol – he admits he's now wary of being typecast all over again, this time as Zac Efron, Shredded Human Ken Doll. But that doesn't mean Efron has any intention of letting himself go. Although it must be tempting, given his ridiculous schedule.
It's a Sunday in LA, and we're at a table in the garden room of the trendy Soho House. Efron flew in early yesterday from the set of Baywatch, in Savannah, Georgia; so far he's seen his girlfriend, slept a little and filmed an entire day of reshoots on Bad Neighbours 2.
That shoot ran until 5am, after which Efron spent some more time with his girlfriend, then caught a few hours of sleep before getting up and driving over here to talk about himself over brunch.
As soon as we finish, he'll go straight to the airport and fly back to Savannah, landing around 1am, and by 7am tomorrow, he'll be on set again, alongside Johnson, rescuing people who are pretending to drown.
"It's been a pretty gnarly schedule," he says. It's obvious he's tired, and I half expect him to order a cheeseburger and a beer and prop up his feet. Instead, he digs into a small backpack and pulls out a plastic bottle, shakes it up and sets it on the table.
Inside is a yellow-brown liquid with a foamy head, comprising ingredients typed on a label by his nutritionist: mango, coconut and lemongrass with coconut water, virgin coconut oil, protein and almond milk.
He drinks a little, then adds water to dilute what's left. That's right: Efron is so committed to his body that he brings his own health drink to a place that offers at least five juice concoctions incorporating every conceivable type of vegetable as well as delightfully LA-ish ingredients such as alkaline water, montmorillonite clay and activated charcoal.
Although Efron is taller than I'd imagined at 5ft 9in (1.75cm), he seems less bulky than expected. It's not until he pushes his sleeve up to scratch at the remnants of a fake fraternity tattoo from the previous day's shoot that I glimpse a sign of it: a giant biceps, ridged with veins. "I guess I forgot to scrub there," he says.
Efron sips his drink and grimaces a little. For him this is something to tolerate, not enjoy – but the pay-off is a body that, he says, feels as good as it ever has.
"Right now I'm probably physically the strongest I've ever felt," he says. "Not in terms of bench press or how much I can squat, but in how quickly I could get out of this room and destroy everything in my path."
He looks around the room – at the parents with kids, the willowy young women and men eating in sunglasses to disguise their hangovers – and laughs. Maybe this isn't that impressive, but "if the zombie apocalypse happened right now," he says, "I'd definitely be able to defend myself."
Of course, Efron wasn't always recognized for being an obscenely fit man. Or, for that matter, for being a man at all. At the height of his early fame, circa 2007, he was the extremely handsome teen star of Disney's smash-hit High School Musical series who, according to a popularly cited but impossible-to-prove stat, was plastered on a third of all American teenage girls' bedroom walls.
Efron probably could have made a hundred more High School Musical sequels, albums and shopping mall appearances, then retired into a life of wealthy obscurity. But he had other things in mind. "The second we finished the first one," he says, he began to tell people this wasn't the life he had in mind. "I was, like, 17. And I said, 'Guys, you know this is not at all what I want to do?' And they were like, 'Really?' "
After appearing in the 2007 musical Hairspray, Efron went on to his next post-HSM projects, the teen-girl-friendly films 17 Again and Charlie St Cloud, but he quickly bailed on the Footloose remake and began to do, well, anything that wouldn't typecast him.
There were dramas (Parkland), thrillers (The Paperboy), indies (We Are Your Friends), grown-up romances (The Lucky One and That Awkward Moment, the latter a bro-fest co-starring Michael B Jordan and Miles Teller). He even voiced a starring role in animated Dr Seuss adaptation The Lorax, and poked fun at himself in several Funny Or Die sketches.
Off-set Efron was experimenting, too. He became a recurring character in the tabloids for a series of social shenanigans. But in 2013 he went to rehab, emerged sober and immediately owned up to his problems, telling The Hollywood Reporter that it was all part of being young, single, and successful in the industry. "I'm human," he said. "I've made a lot of mistakes."
Then in May 2014, Bad Neighbours came out, and the "Efronaissance" began. The former teen idol surprised nearly everyone in Hollywood by playing a lovably arrogant prick and showing formidable comedic chops.
The film earned more than $260m (around £211m) and became the highest-grossing live-action film of co-star Seth Rogen's career, but the biggest surprise was probably that Efron stole the movie. Like Justin Timberlake before him, he seemed to successfully shed any former teen-idol lameness and managed to come out the other side not only respectable and unscathed but also cool.
And yet, Efron is nowhere near ready to declare this transformation complete. "I step back and look at myself and I still want to kick that guy's ass sometimes," Efron says of his former self. "Like, fuck that guy. He's done some kind of cool things with some cool people – he did that one thing [Bad Neighbours] that was funny – but, I mean, he's still just that fucking kid from [High School Musical]."
That's how Rogen felt, too, when he ran into Efron at a party a few years back. "For sure, I assumed he'd be a guy I wouldn't like very much," Rogen says. "But he was very self-effacing and self-deprecating, and I remember really liking him. He won me over."
Efron says Rogen "was and is my hero" and confesses he never considered working with him "within the realm of possibility". In their initial meeting about Bad Neighbours, Efron recalls speaking first. "I said, 'I know what you think of me. I know because I don't like me, so I can't imagine what you think.' "
According to Rogen, it's this self-awareness that makes Efron so endearing – it provides a level of psychological complexity that gives his characters depth. "What's surprising about him is how sympathetic and vulnerable he seems," Rogen says, "probably because people view him a certain way and he's been shit on. He's someone you sympathise with, and that's really hard to do when you look the way he does."
"I know that's how people think, and it's in the back of my mind all the time," Efron says. "I ultimately want [those people] to want to see me in another interesting role. And that can only come with time, respect and making decisions that are hard."
If you look closely enough, there are plenty of signs of this process at work, often in unlikely places. Efron was the first ever celebrity guest on Running Wild With Bear Grylls, the British survival expert's US show in which Grylls takes celebrities – including President Obama – into the wild and tries to teach them to fend for themselves.
The episode opens with Efron and Grylls skydiving from a helicopter to begin their quest. Efron had jumped a grand total of once in preparation, and that was with an instructor at a much higher altitude. But then the show called for him to make a 5,000ft (around 1,500m) solo jump with a self-deploying chute. To the show's viewers, Efron jumped out, the chute opened and he landed. In reality, he says, what happened was "one of the worst things possible."
To be more specific, he almost died when the lead chute's cord tangled around his ankle and wouldn't deploy. "As I was going headfirst toward the ground I thought, 'Something's wrong here'," Efron recalls. He could feel the tension of the chute's cord tightening around his leg, "and everything went kind of white and I started to say, 'Don't panic, don't panic, reach for your reserve!' " Jumping from only 5,000ft doesn't give a person much time to react, but he did everything he could to free his leg. "I just started kicking wildly," he says. "Then all of a sudden, shoomp! the parachute came out. And I went, 'Oh my God, that was close…'"
Perhaps most surprisingly, he then just brushed it off. "I haven't really told anybody this since then," he says. He got on well with Grylls, and the two wandered around the woods for two days, snacking on worms, abseiling down cliffs and camping out in a cave, where they joked and told stories.
"This is a guy who's not in the entertainment industry," Efron says. "I don't know what he knew of my work or if he'd seen any of it, but I was so grateful he was interested in who I was. I felt like I was talking to just a guy, a dude, with no judgments. He came in with no preconceived notions, and we talked about awesome stuff."
Efron was born in San Luis Obispo, on California's central coast, and spent his childhood there with his younger brother, Dylan, who now shares a house with him in Los Feliz, a suburb northwest of central LA. Their father, an electrical engineer at a power plant, and mother, a secretary who worked at the same facility, gave their boys a fairly normal life. Efron recalls that, throughout his school years, he had one defining trait: his height.
"I was the shortest kid in every grade, by a long shot," he says. In fact he was only 5ft 1in by the time he left high school. He didn't reach his current height until he turned 20.
His dad pushed both sons to try sports. Zac played baseball and basketball but found his size a real hindrance. It was a piano teacher who saved Efron from a life of athletic ridicule, recommending that he audition for a production of Gypsy at a nearby drama school after hearing him sing a Michael Jackson song.
Efron auditioned, got the part, "and that was it". The show ran for 60 performances. "Once I found theatre, I'd do anything to get onstage," he says. He took drama classes and continued to win parts, practising and performing alongside college students and even professional actors from the area.
"I was, like, 13, 14, and thrust into this world where my parents weren't allowed, with college girls and dudes who loved to share knowledge, and it opened up a whole new world for me."
For all our talk about getting away from the past, it's obvious Efron still cares deeply about musical theatre. "I'd love to find a way to reinvent a musical," he says when I ask if he'd do it again.
But for now, Efron's reading scripts and taking meetings – but, he says, every audition is still a fight. "The only way people really get me is if they meet me," he says. "Until that happens, I don't think they have their heart set on me for any role. Afterward, maybe they take me more seriously."
Efron's fitness goal, especially for Baywatch, was to be "fast and light". His physical archetype is Bruce Lee. "I want to be lean," he says. "When I put on a T-shirt, I don't want people to go, 'Oh, that guy's a bodybuilder'."
To consume enough calories to carry out Baywatch's many physically difficult scenes yet keep his body fat minimal, Efron eats a diet designed by his nutritionist, trainer Patrick Murphy. Every element – carbohydrates, fat, salt, vitamins – is broken down for every meal, so both he and Murphy can see exactly what he's putting into his body. The diet is extremely low-carb, with an emphasis on organic whole foods.
"After a while your body stops craving junk food and you look forward to these meals," he says. When I express my scepticism, he explains further. "There's this trigger that happens after two or three weeks of dieting and eating healthy food, where your body switches its primary energy source from burning mainly carbohydrates to burning fat. And when it switches over, all your cravings change. You go, 'Holy cow, I want kale and vinaigrette shredded with beets and a little bit of sweet potato!'" I wait for him to laugh. He doesn't.
Efron was no less serious about the fitness plan created for him by Murphy, who spent ten weeks helping him "drop the last bit of body fat" and "get into the best shape of his life". It was necessary because although, as Murphy says, "many actors train hard for a specific scene," Efron was preparing to shoot an entire film wearing, for the most part, nothing but swimming trunks.
Murphy trained him five or six days a week, often twice a day, mixing balance and agility, strength and endurance training, plus swimming, sprinting and hiking to create what he calls "the most dynamic programme I've ever put together for a client".
A few weeks after our chat in LA, Efron has a rare day off in Savannah, and I manage to get him on the phone. One thing I'd wanted to ask him about in LA, before we ran out of time, was his sobriety. Efron battled some very public drug and alcohol issues, and he's been forthright about those episodes ever since, even discussing them with Grylls on Running Wild.
"I was caring less about the work and more about the weekend," he told Grylls as the two prepared to eat an omelette made of wild bird eggs and earthworms. "I don't want to have to take anything from the outside to feel good on the inside."
And when I bring it up, Efron isn't reticent. Working out has definitely helped, he says. "When I'm very careful about my fitness and have a goal in mind, it keeps me motivated and balanced. I wake up earlier. I don't feel the need to be out [socialising] – that kills your day, your hobbies, and your motivation."
Fitness, he says, is now a key part of a formula that seems to be working: "Balancing sobriety and work and finding that comfortable place where you feel like a good person."
Spending weeks in Savannah, far from home, working alongside The Rock isn't likely to lead to a relapse, either. Johnson, Efron says, is exactly what any of us imagine him to be: a superhero in corporeal form, "like the genes just clicked and made this dude".
Efron wakes up at 5am to train – but Johnson rises by 4am. "He's getting less sleep than I am and he already did a post on Instagram at 5.30am, doing the most ridiculous leg day you've ever seen," Efron says. "He's reached nirvana – muscle nirvana."
The admiration, it turns out, is mutual. "Athletes know how hard it is to prep, train, and diet for a competition," Johnson says. "It's months of focused sacrifice all leading up to one particular event that takes place in one night. In the case of Baywatch, Zac's had to apply the diet and training strategy of an elite athlete, but he's also had the 'added bonus' of needing to maintain that look for months while we're shooting. Zac committed to be the best version of himself possible and did it. He came in looking like a fucking animal." The two have been gleefully bro-ing out ever since.
Early one day on set, as the cameras were preparing to roll, Johnson noticed Efron working with some stretch bands – "to, as Arnold says, 'get the pump on', " he explains. Johnson asked Efron to toss one his way, and the two commenced prepping their movie-star muscles for the first scenes. The ridiculousness of the moment poured over Efron. "Here we are lifting weights on the beach, surrounded by a bunch of people watching. It was one of the most ridiculously narcissistic moments of my life."
Efron has every reason to be self-satisfied – he looks incredible, he's strong as hell, his career's going amazingly, he's friends with The Rock for heaven's sake – and yet he's not resting on his laurels. After our interview he's off to be fitted for a new bike so he can take up cycling, and months later completes his first triathlon. Something tells us he's just going to get better and better.
This interview first appeared in the US edition of Men's Fitness
Sign up for workout ideas, training advice, the latest gear and more.
Thank you for signing up to Coach. You will receive a verification email shortly.
There was a problem. Please refresh the page and try again.