EXCLUSIVE: Feast Your Eyes On This Clip From The Purge: Election Year
By Nick Harris-Fry published
Break up the Christmas schmaltz with a good old-fashioned bloodbath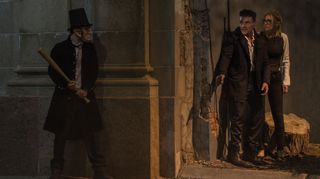 (Image credit: Unknown)
It's that special time of year again and you've already watched Home Alone 1 and 2, Elf twice, and fallen asleep during Bad Santa. All of which means you're likely thoroughly sick of Christmas films, so it's time to mix things up with something altogether more thrilling.
The Purge: Election Year, available now as a digital download (opens in new tab), is the perfect tonic for anyone feeling queasy from watching too many sugary festive films. The third instalment in the Purge series, Election Year once again showcases the drama and danger of a 12-hour period where all crime is made legal.
This time, things get political, with the Purge itself at stake. Presidential candidate Charlie Roan (Elizabeth Mitchell) is set on outlawing the Purge if elected, much to the consternation of the ruling New Founding Fathers of America, who hatch a plan to use the upcoming Purge to eliminate Roan.
Leo Barnes (Frank Grillo), who starred as The Sergeant in The Purge: Anarchy (opens in new tab), is now Roan's head of security, and is handed the unenviable task of defending her. Naturally Roan opts to see out the Purge in her unsecured home in order to win a few more votes.
In this exclusive clip, we see Barnes contemplate exactly how he is going to keep Roan safe in her home. It's fair to say he's not delighted with the set up.
As you might expect, Roan's house does not prove the secure environment required to see out Purge night (that would be one boring movie), and with a little betrayal thrown into the mix, it's not long before she and Barnes are forced out onto the streets of Washington DC.
The Purge: Election Year is available on digital download now (buy on amazon.co.uk (opens in new tab)) and is coming to Blu-ray™ and DVD on 26th December 2016, from Universal Pictures Home Entertainment. Pre-order on amazon.co.uk (opens in new tab)
Sign up for workout ideas, training advice, the latest gear and more.
Thank you for signing up to Coach. You will receive a verification email shortly.
There was a problem. Please refresh the page and try again.