The Best Box Sets Of 2016 To Binge Watch
By Gary Ogden published
Take a duvet day and dive in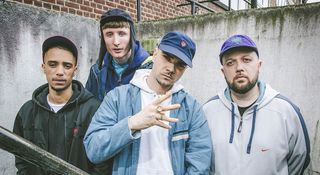 (Image credit: Unknown)
Baby, it's cold outside, so why not stay in with your significant other(s) and stream your way through 2016's best shows without ever having to leave your sofa?
People Just Do Nothing
"Are you ready ready London, for the sound of The Artful Dooodgaarr!" If you don't recognise that, then chances are a lot of People Just Do Nothing will go over your head, but if that head is full of looped garage music, then it'll be your favourite show. This hilarious mockumentary follows a bunch of no-marks as they attempt to run their own pirate radio station, as well as handle club nights and record singles. It's one of the best comedies to come out of the BBC in yonks, and just keeps getting better. INSIDE! Season 3 available on BBC iPlayer (opens in new tab)
Stranger Things
This brilliant retro eight-parter surrounds the disappearance of a young boy and a mysterious telekinetic girl. A must for fans of '80s horror and sci-fi, it's chock-full of subtle and not-so-subtle references to the best the era had to offer. Available on Netflix
Rick and Morty
Morty is whisked off by his eccentric mad-scientist grandfather Rick on a series of insane adventures that span universes and dimensions. Anything goes: episodes can run the gamut from childish to inventive to dark. Like nothing else on TV. Seasons 1-2 available on Netflix
RECOMMENDED: The Movies You Don't Want To Miss Over Christmas
Banshee
If you fancy OTT ultraviolence, bad language and gratuitous sex, this ludicrous show is for you. In between all the carnage, there's a convoluted story about a man released from prison who secretly takes up the mantle of sheriff in a small Amish town. Seasons 1-4 available on Sky Box Sets (opens in new tab)
Daredevil / Luke Cage
Although it may feel like superhero movies are all that's on at the cinema these days, they've been taking over our TVs, too. Marvel's doing what it's doing on the big screen on Netflix as well, albeit on a smaller scale, and two of its best series this year were Luke Cage and the second season of Daredevil. The latter probably topped it (just because The Punisher was so good), but it's worth catching up on everything (including last year's Jessica Jones) before they all come together for The Defenders. All seasons available on Netflix
Black Mirror
This latest series is properly good and contains perhaps the best episode ever in San Junipero, a cheek-wipingly great tale that is immediately ruined as soon as you try to describe it. Just sit back and soak it up, you absolute sponge, you. Seasons 1-3 available on Netflix
Game Of Thrones
It's great watching naked people get stabbed by swords, isn't it? So says your 12-year-old brother. However, it's way more than just that (although it is that too). The latest season includes the astonishing episode "Battle Of The Bastards". Season 6 on Amazon Video, £22.99 (opens in new tab)
RECOMMENDED: The Very Best Stuff to Watch on Sky Q Right Now
Mr Robot
Mr Robot focuses on a genius who hacks into big corporations to bring about global financial chaos. Oh, and he's got a split personality. He's played by Rami Malek in an amazingly jittery performance: Christian Slater is the other highlight. Season 1-2 available on Amazon Prime (opens in new tab)
The Night Manager
Tom Hiddleston goes James Bond in this sultry adap of the John le Carré spy novel, while Hugh Laurie is a revelation as the villain. The tension never lets up as the characters jet around the globe doing dastardly things. Much more fun than a show of this name should be. Available on BBC Store from £9.99 (opens in new tab)
RECOMMENDED: The Best Sport On TV Over Christmas
Broad City
Graduating from a short web show to a proper TV series, this hilarious, childish sitcom follows real-life bessie mates Ilana Glazer and Abbi Jacobson as they navigate around New York getting into hijinks. Get involved before they become massive stars. Season 1-3 available on Sky Box Sets (opens in new tab)
Sign up for workout ideas, training advice, the latest gear and more.
Thank you for signing up to Coach. You will receive a verification email shortly.
There was a problem. Please refresh the page and try again.