Gerard Butler: "Stop Taking Yourself So Damn Seriously"
By Gary Ogden last updated
The actor and face of Boss Bottled on the best piece of advice he's ever been given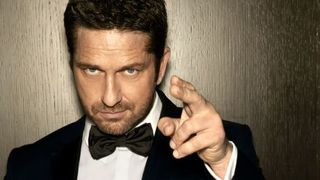 (Image credit: Unknown)
Who did you look up to growing up?
I grew up in a single-parent household and my mother and my gran were huge influences in my life. My mum was a very inspiring woman. She was always pushing me to be the best that I could be, and always instilling good values in us as kids. But also being tough with us – I feel like I have a very good work ethic and so much of that comes from my mum.
Career-wise, I grew up idolising Newman and McQueen. In fact, that Newman/Redford duo – they made two of my favourite movies: The Sting and Butch Cassidy and the Sundance Kid. Those movies had so much heart, adventure and mischief, that you go "How could I not want to do that, live in that world and have those kind of relationships?"
Who helped you out in your career?
There was a casting director who gave me a helping hand and a lot of advice. I was assisting her casting a play and I asked the director at the coffee shop on the second day if I could come and read for it. She (the casting director) had secretly coached me in what would be a good performance – it was Shakespeare and I'd never done that in my life. I went in and got offered the job – it was my first role as an actor and I think if that hadn't happened, who knows where I would be right now?
Which celebrity would you turn to for down-to-earth advice?
I'll tell you who has been amazing in advising me both in my career and personal life: Bill Nighy. He's just such a genius and a wise man, and he knows how to knock you and shake you. I honestly think that he's my favourite actor to watch on stage. It's incredible to see him perform – he's so alive, and so I still get a bit starstruck, like "Wow, look at him up there. That's the guy who's spending time to help me out."
Whose opinion do you care about?
Sadly, my mum is still one of the few people who's completely truthful with me: "Oh Gerard, enough of that action stuff, can't you do a sweet little drama?" There's nothing better than seeing your family proud of you. I also remember when Olympus Has Fallen came out, and Robert Downey Jr sent me an email talking about how much he loved it, he said it reminded him of movies in the '90s, sitting in the crowd with people shouting shit at the screen, and then he says "And by the way, Barbra Streisand now officially thinks you're hot" because he watched it with her! Moments like that, where people dig what you do in surprising ways, is one of the freshest and most fun things about this business.
They say you shouldn't meet your idols – have you ever found this to be untrue?
Most of the time I find that to be untrue – my fear is when people meet me. I think "How can I live up to it?" I'm sure they're walking away thinking "Oh, is that it?" For me it's important to always be nice because I know how meaningful it is to me.
One example would be meeting Bill Clinton – he's a big hero of mine. He was so charming and interesting, and in fact he's a big fan. I saw him speak and he talked about having me in the audience and how I'd helped him! But as a person one-on-one, he was just a fascinating man, but also really giving of his time.
What's the best piece of advice you've ever been given?
"Stop taking yourself so damn seriously." I think it was my agent who said it to me one time when I was bitching about something. It sounds trite, but it's amazing how if you really follow that through, how much it brightens up your life. It doesn't mean "don't make an effort", but at the end of the day this is fun, we're lucky to be alive. I notice that when there's a lightness and breeziness to how I'm going through things, everything works so much better.
Who's the biggest on-set practical joker you've encountered?
Honestly, me. I do it all the time. I live for practical jokes on set and it's an addiction. I remember one a few years ago on Gamer, where I got all the stunt guys to sign a card to the directors saying "What a blast it is working with you guys," and we sent them a box of doughnuts. But the next day I had us all pull our pants down and take a photo of some doughnuts in our arses – we printed it out and sent it to the directors with another card. That was one of my favourites…
What does the Man Of Today mean to you?
It's those kinds of classic values that definite a man, like passion, courage, determination and diligence. Also, and this is where I really dig the idea, is it's a multi-faceted man in all areas of your life – for me, I'm all about success, but not just in my career, in all different areas, whether that's relationships, adventures or spiritually.
How does a Boss fragrance encapsulate this?
It's not one particular thing – it has it all. It has that classic spicy fragrance, but then also a number of top notes and base notes. It also seems to have lasted into modern times as well, so I think that it's – dare i say it – multi-faceted as well.
How important is it for a man to find his fragrance?
Look, is he going to die without it? No. I'm sure he'll get by, but there's nothing better than when you have a fragrance that's part of who you are – it's just like your favourite jacket or shirt. It all adds to the richness of who you are and helps you to be more comfortable, sexy, whatever that may be. I think that it's important, but I wouldn't want to say it's essential.
RECOMMENDED: The Best Men's Fragrances
Gerard Butler is the face of the iconic, award-winning Boss Bottled fragrance (£45 for 50ml; debenhams.com (opens in new tab)), now also available in Boss Bottled Intense Eau de Parfum (£49.99 for 50ml; debenhams.com (opens in new tab)) both available from Debenhams stores nationwide.
Sign up for workout ideas, training advice, the latest gear and more.
Thank you for signing up to Coach. You will receive a verification email shortly.
There was a problem. Please refresh the page and try again.