Brian Cox: I Have Unbelievable Respect For Astronauts After Experiencing Their Training
By Gary Ogden published
The scientist and presenter on the secret to fitness that lies in being an astronaut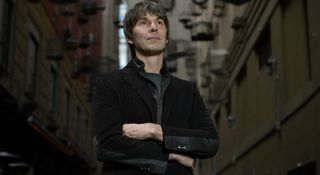 (Image credit: Unknown)
What can we expect from your live shows?
They're based on a book I've just written called Universal (opens in new tab) – it's primarily cosmology, and focuses on what we know about the origin and evolution of the universe and what we know about what happened before the Big Bang. It also addresses questions of how we should react to cosmology, because there's at least two trillion galaxies in the observable universe, but there are new theories that there might not even be one universe, but possibly an infinity of them. Plus some comedy from Robin Ince and some Q&As, so it's a lot of stuff crammed into two hours.
How do you avoid the lure of the service station pasty?
I avoid that because I exercise a lot, and I've got a trainer who sometimes comes with me on the tours. I'm quite careful to not go too crazy with things like that, although I did have too much wine last night…
What's your most impressive personal best?
I'm probably fittest now actually, because I train three times a week, and that's made me a lot fitter than when I used to run. I think that circuit training is – for me anyway – significantly better. I did do the Great North Run last year. I used to run a half-marathon in about 1.42, and even though I hadn't run one for years or done any training, I was actually on target for 1.45 until the 11th or 12th miles. I hadn't put enough into the legs and I came in about 1.52, which I was really pissed off about.
Have you ever pulled a muscle in less-than-heroic circumstances?
You know those bands that you can exercise with? I was using those about nine months ago and I nearly snapped one of the tendons in my finger – the end of it was hanging down. You'd think I was doing boxing or something, but it was just taking the band off my leg. It's still not right, actually. Catastrophically stupid injury.
Which excuse for not going to the gym/working out are you most ashamed of?
The thing is, I'm so semi-obsessed with it that I will always go! My problem psychologically is when I can't, if I'm touring and I can't do my regular training. I really look forward to it, so I don't ever feel any need to get out of it.
Have you ever secretly impressed yourself with a feat of strength?
Yesterday I was doing a one-armed plank – it's a new thing I've started doing and I was quite impressed that I managed to do it for quite a long time. That's the thing about exercise – you get strong and you get surprised at the things you can do, that you never could have done before.
What's the best way to spice up a boring jog?
I never listen to music, I like to look at the world. When I was staying in the hills near Manchester, I was doing the same run but throughout the year – it's interesting, you pay attention to what's happening as the seasons change. Even in London, if I do go for a run, I like to go down to the Thames and take a look at what's happening. For me it's paying attention.
What's the most extreme thing you've done in the name of good health or fitness?
The most physically taxing thing I did wasn't actually in the name of health or fitness, but was when I was filming for Human Universe (opens in new tab). I did some astronaut training in Russia. I got in a big pond while wearing a spacesuit – and that is incredibly hard work. I was in there for a couple of hours and it's really difficult trying to manoeuvre around. I have unbelievable respect for astronauts after experiencing that.
What's the longest you have gone without alcohol in the name of good health?
I go more these days for moderation. I only drink wine now and again, and apart from the odd crazy thing – like when there's an American election – I only drink a couple of glasses. But if I go out for dinner, then I'll have a glass of wine.
Have you ever "let yourself go" at any point in your life?
When you're on television you've pretty much got a record of what you look like over the years, and actually before I started with my trainer I'd just finished making a series called Wonders Of Life (opens in new tab). I look back at that and, compared to what I am now, I think: "Wow, you had a few pounds on you…"
Extra shows for Professor Brian Cox Live are on sale now – briancoxlive.co.uk (opens in new tab)
Sign up for workout ideas, training advice, the latest gear and more.
Thank you for signing up to Coach. You will receive a verification email shortly.
There was a problem. Please refresh the page and try again.