Foul-Mouthed Festive Fun
By Gary Ogden published
Funny people get up to various funny things in Office Christmas Party (the movie, not your office Christmas party, sadly)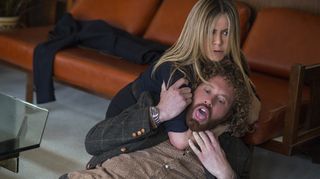 (Image credit: Unknown)
Office Christmas Party
Office Christmas parties are strange. Sometimes they can be amazing because you get to have a huge blow-out with all your work pals. They can be terribly depressing, because you hate everyone you work for and it's being held in the breakout area. Or they can be hugely awkward, because you cheated on your partner with the intern and/or ripped the arse out of your trousers on the dancefloor.
Either way, chances are you'll be going to one this December. This film promises the most debauched, out-of-control, crude and violent Christmas party you'll ever be invited to (if by invited you mean watching, anyway) and features a top-notch cast of comedy royalty, including (deep breath): Jason Bateman, Jennifer Aniston, TJ Miller, Kate McKinnon, Olivia Munn, Jillian Bell and Rob Corddry.
Essentially, all these funny people get up to various funny things, and you laugh at their funny moments. Then you receive an email the next morning saying you've been sacked because you drank too much at your own office party two days before. Happy Christmas! In cinemas December 7
RECOMMENDED: 6 Memorable Onscreen Office Christmas Parties
Popstar: Never Stop Never Stopping
If you've ever seen Hot Rod, you'll know how good the Lonely Island troupe can be when given the chance to make a film. Because hardly anyone saw that film, however, hardly anyone saw this one either, even though it was hilarious. It's a pitch-perfect send-up of the pop music industry, and follows an irritating div called Conner Friel, or "Conner4Real" on his quest to become a solo success after his previous group, The Style Boyz, disbands. It's childish and stupid but also very clever and skewers the music industry right through its dark heart. The songs are hilarious, too. Available for download December 12. Pre-order on amazon.co.uk (opens in new tab)
I Am Not A Serial Killer
Is he or isn't he? Well, that would be telling, obviously, and this isn't a spoiler. This clever little flick follows a weird child who has more than enough to deal with in his own brain without having to sort out a murder spree in his home town. It's an interesting psychological twist on the serial-killer movie, mainly because there's an inhuman element to the proceedings that keeps things fresh all the way through. What's more, it features an absolutely bonkers performance from Christopher Lloyd and a lovely splash of grue to keep the gorehounds happy, too. In cinemas and on demand December 9
Snowden
Oliver Stone makes good movies, doesn't he? Natural Born Killers was good, Platoon was decent, we're not sure about Alexander but, hey, Wall Street certainly holds up. Thankfully, so does this one. It tells the story of infamous US security service whistleblower Edward Snowden, and you can be sure you're getting the real deal, because the film has supposedly been approved by the man himself.
Joseph Gordon-Levitt is brilliant in the central role – he's so convincing, in fact, that it's uncanny at times. If you've seen the documentary Citizenfour, you'll recognise real-life moments that correspond with scenes in the film so that sometimes it's almost difficult to tell them apart. In cinemas December 9
Sign up for workout ideas, training advice, the latest gear and more.
Thank you for signing up to Coach. You will receive a verification email shortly.
There was a problem. Please refresh the page and try again.