6 Memorable Onscreen Office Christmas Parties
By Chris Miller published
New movie Office Christmas Party attempts to create another unforgettable bash – but does it match up to these?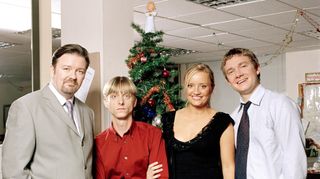 (Image credit: Unknown)
From a graphic design agency's nudity-themed shindig to a madcap hootenanny at a Victorian rubber chicken factory, Hollywood has brought us plenty of noteworthy festive office gatherings. So would you rather go to one of these than your real-life Xmas do? Coach decks the halls – not the boss – and looks back at some of its favourites.
1. Die Hard (1988)
If you worked for a hugely successful Japanese company in LA at the end of the 1980s, the least you'd expect would be a stonking Christmas party. Plus if you're a VP, you get to invite your estranged spouse from New York to show off how successful you are. What could go wrong with that?
Traditional elements The gun-toting Euro-terrorists may not be a long-established custom – but among the first people they terrorise are a half-undressed couple fornicating in an unlocked office, in the finest Yuletide tradition.
Any shenanigans? As Bruce Willis's cop John McClane discreetly points out, executive douchebag Ellis (Hart Bochner) has clearly been enjoying a Colombian Christmas. In other circumstances, this might have emboldened him to try his luck with Janice from Accounting. Unfortunately he tries his luck at negotiating with ruthless Hans Gruber (Alan Rickman). Bad move.
Better than your real Christmas party? Sure – if you left early.
Worth a Crimbo watch? Are you kidding? It's the greatest Christmas story ever told. Available on Netflix, Amazon Instant Video (opens in new tab) (not Prime), DVD (opens in new tab), Blu-ray (opens in new tab)
2. Love Actually (2003)
Behaving badly at Christmas parties is a recurring theme in Alan Rickman's career. In Richard Curtis's multi-story romcom, Rickman's Harry is the boss of an edgy design agency circulating among his staff while his flirty assistant Mia (Heike Makatsch) makes googly eyes at him. Under the watchful eye of his wife (Emma Thompson), he decides the way to make it clear he's not interested in Mia is to join her for a sultry slow dance to a song called "The Trouble With Love Is". He's a genius.
Traditional elements Awkward inter-colleague chit-chat? Check. Terrible dancing? Check. Giant pictures of naked people everywhere? Nothing says "Christmas" like bare arses. Well, other than the boss making an idiot of himself.
Any shenanigans? Sarah (Laura Linney) has been lusting after Karl (Rodrigo Santoro), and the party provides the perfect opportunity to cop off. But in keeping with the rest of the film – where the male characters largely get what they want while the women are idealised, pursued, reduced to clichés and/or generally humiliated – Curtis soon puts a cruel end to her sexy fun time. Merry Christmas!
Better than your real Christmas party? Discomfort levels: about standard. Depending on how you feel about giant nudey pictures.
Worth a Crimbo watch? If that's really how you want to remember Rickman. Hey, can we make a suggestion? Try Die Hard. Available on Amazon Instant Video (opens in new tab) (not Prime), DVD (opens in new tab), Blu-ray (opens in new tab), usually shown on ITV2 800 times in December
3. The Office (UK): "Christmas Special" (2003)
The magnificent finale of one of the most influential sitcoms ever sees David Brent (Ricky Gervais) returning to Slough for Wernham Hogg's Christmas party. Some of the show's most teeth-grindingly uncomfortable moments segue into a surprisingly upbeat ending, as Brent's blind date turns out to be well suited to him, and star-crossed lovers Tim and Dawn (Martin Freeman and Lucy Davis) share their first kiss. Plus horrible sales rep Finchy (Ralph Ineson) finally gets the verbal slapdown he deserves. Cheers!
Traditional elements Colleagues not knowing what on earth to say to each other. Clumsy dancing to '80s classics. Someone shouting "It's Chriiiiiiiistmaaaaas!" along with Noddy Holder. A fella falling asleep in the corner. Embarrassment. Unease. Ennui. Sound familiar?
Any shenanigans? Gervais and co-creator Stephen Merchant's commitment to drudgery means that absolutely nothing exciting happens.
Better than your real Christmas party? If it is, we'd suggest looking for a new job.
Worth a Crimbo watch? You've seen it half a dozen times, but we defy you not to well up a little bit when Dawn comes back in to the party to find Tim. Available on Netflix, Amazon Instant Video (opens in new tab) (not Prime), DVD (opens in new tab)
4. The Office (US): season 2, episode 10, "Christmas Party" (2005)
The American remake of The Office had a Christmas party episode almost every year, but its first – in the superlative second season – is the best, a hilarious high point in the show's colleagues-as-surrogate-family running theme.
It starts to go horribly wrong when boss Michael Scott (Steve Carell) breaks the $20 Secret Santa limit and buys an iPod for Ryan (BJ Novak), only to receive a home-made oven glove in return. He immediately instigates a "Yankee Swap" so everyone has the chance to switch gifts – causing consternation for Jim (John Krasinski), who has put together a highly personal present for his crush Pam (Jenna Fischer).
Since the US version lacks the cynicism of its British parent, everyone ends up having a more or less happy Christmas. (Except Angela. And screw you, Angela.)
Traditional elements All the fun aspects of Secret Santa: having no idea what your office-mates like, breaking the rules, hating what you get, fomenting resentment. It's textbook.
Any shenanigans? Michael goes against company policy and smuggles alcohol in, which livens the party up no end – and leads to an unexpected, and unwelcome, flashing incident. We've all done it.
Better than your real Christmas party? Come for the agonising exchange of gifts, stay for the excruciating nudity!
Worth a Crimbo watch? 100%, especially if it turns into an accidental festive binge of the entire season. Apart from anything, there's tons of nostalgia value in seeing people getting excited about an iPod. Available on Amazon Instant Video (opens in new tab) (not Prime), DVD (opens in new tab), Blu-ray
5. Scrooged (1988)
In this slick, blackly comic update of A Christmas Carol, the Ghost of Christmas Past (New York Dolls singer David Johansen) takes misanthropic TV exec Frank Cross (Bill Murray) back to his network's 1968 office Christmas party, where he watches himself being Scroogey amid the merriment. Do you sense important lessons are about to be learned? You may be right.
Traditional elements The past truly was a different country. Copious in-office drinking, smoking, dancing on desks… the health and safety police would think it was, well, Christmas. Plus enough sexual harassment to keep HR busy till Valentine's Day.
Any shenanigans? In real life, Xeroxing your bottom and handing out copies is strictly the remit of hairy rugby players. Here, it's done by a young and attractive woman. Movies, eh?
Better than your real Christmas party? Can we refer you to the above health and safety nightmare? It's a total blast – and even if you leave early, like Frank, you get to meet the love of your life.
Worth a Crimbo watch? Essential for Murray fans, ie everyone. Available on Netflix, DVD (opens in new tab), Blu-ray (opens in new tab)
6. The Muppets Christmas Carol (1992)
Another version of the classic Dickens story, but this time the Ghost escorts Scrooge (Michael Caine) back in time to a party at the rubber chicken factory where he worked in his youth. Like the original's Fezziwig, Fozziwig is a generous employer who's baffled by the stiff, formal young man bitching about the cost of the celebration. He decides it's time to introduce young Ebenezer to his lovely daughter Belle, and everyone lives happily ever after… as long as you don't count all the years of misery and loneliness and humbug.
Traditional elements As is customary, the boss makes a speech thanking everyone for their hard work over the year. As is equally customary, he's heckled by some sniggering lads in sharp suits – in the form of resident Muppet grumps Waldorf and Statler, playing Scrooge's future haunters Marley and Marley. "It was dumb! It was obvious! It was pointless! It was… short. I loved it!"
Any shenanigans? There's always the party animal who decides it's time to kick things up a notch, isn't there? Even better when it's your actual Animal, going hell for leather on the skins and getting the Victorian Muppets carousing. Goodness, they'll be showing their ankles next. (Do Muppets have ankles?)
Better than your real Christmas party? It's a 19th-century rubber chicken factory full of boogieing Muppets – we are there for all of that. If you're not convinced yet, the Swedish Chef's catering it. Try the singing grapes.
Worth a Crimbo watch? Definitely – not least because it's surprisingly faithful, with whole chunks of dialogue lifted straight off the page. We don't remember Rizzo the Rat in the book, to be fair, but Caine's brilliant, and so are the songs. Available on Amazon Instant Video (opens in new tab) (not Prime), DVD (opens in new tab), Blu-ray (opens in new tab)
As Coach's subeditor, Chris is responsible for the accuracy and consistency of all the articles on the site, and occasionally contributes stories. Chris was managing editor on Men's Fitness UK – Coach's former sister title – for 12 years, and is now a freelance writer and editor working on The Guardian, the i, Virgin Media's TV Edit and more, alongside Coach.
Sign up for workout ideas, training advice, the latest gear and more.
Thank you for signing up to Coach. You will receive a verification email shortly.
There was a problem. Please refresh the page and try again.