Scott Adkins Thinks His Fitness Is Only 7 Out Of 10 So There Is No Hope For Any Of Us
By Gary Ogden published
Only joking! The Doctor Strange star just knows he could be fitter cardiovascular-wise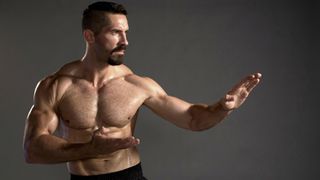 (Image credit: Unknown)
Perhaps the reigning kung fu king of the western action movie market, Scott Adkins performs physical feats like no other – but how does he stay in top fighting form when faced with such a busy schedule?
How would you rate your fitness on a scale of one to 10?
For the films I do, you have to be really fit, but if I'm doing a fight sequence we tend to shoot it in shorter takes, so I only need to be fit for about eight seconds! I'm not a massive fan of cardio but I don't need to be, so I could be fitter cardiovascular-wise. Seven out of ten; I'll be hard on myself.
How important is health and fitness to you?
It's everything, because I'm a physical performer. I always wanted to be involved in action films – when I was a kid I looked up to Bruce Lee and Jackie Chan, and I still do. It's a huge part of who I am; I've been doing it since I was 12. I pride myself on being able to do most of my own stunts or whatever the producers allow me to do, so being at the top of my game is very important and I intend to do it for many years.
What do you do, fitness-wise?
If I'm playing a part that requires me to be bigger or more muscular then I'll up the weight training to put on more size, but my routine stays the same. I tend to do more plyometric stuff for my lower body, because it helps with the jumps or kicks – also I've had some back problems in the past, so I don't like to load up my neck with heavy weights. I'll also do martial arts training, gymnastics training and lots of stretching and yoga.
What do you do to motivate yourself?
I enjoy it, so I don't have to motivate myself. However, sometimes the motivation is clear – I'm probably going to be doing a film where I'll be taking my top off, so you don't want to be looking out of shape. Having said that, I find it hard to stay in perfect shape all year round, so it is nice to do a film where that's not a priority. I can start eating things that I enjoy a bit more and I can take the steam out of the training a little bit. Then once I've had a month or two like that I'll get the bug again and want to get straight back into it.
What will you never do again?
With martial arts, I hate the wrestling – there's nothing worse than having a big, sweaty guy on top of you, breathing into your face, dripping sweat into your eyes. Also, cardio – I don't like going for long runs, I like to hit the mitts with some kickboxing.
How is your fitness fingerprint unique to you and your career?
It's probably easier for me to stay fit because I'm entrenched in that world – it's all about looking good and being able to do physical things. I can see how people with a nine to five find it hard to get the motivation to get to the gym, especially if they've been working all day. In between films I'll get into better shape as I can structure my training. With something like the Undisputed films, it doesn't matter how hard the 14 hours of shooting was, I've got to get in the gym and get that weights session in.
Doctor Strange is currently in cinemas and is due for DVD release early 2017.
Sign up for workout ideas, training advice, the latest gear and more.
Thank you for signing up to Coach. You will receive a verification email shortly.
There was a problem. Please refresh the page and try again.