Frank Carter: Boxing Is Like Playing A Gig
By Gary Ogden published
The tattooist and singer on how routine is key to staying healthy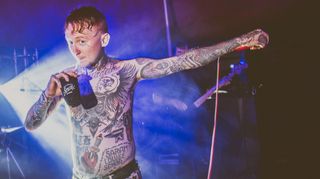 (Image credit: Unknown)
You won't see many shows as energetic and manic as a Frank Carter & The Rattlesnakes gig – it's almost a workout just being in the audience. So how does he keep up his touring schedule without burning out?
How would you rate your fitness on a scale of one to 10?
I'm about an eight or a nine – I have to get myself in shape before I go on tour otherwise I just can't do what I need to do. Our shows are like doing a 100m sprint but singing the whole way. I've fine-tuned it a bit, so now I've got a workout that I do pretty much every day. If you'd talked to me a couple of months ago it would be a different story because we had a month off and I let myself go a little bit...
How important is health and fitness to you?
It's everything. I never really cared about it when I was younger, but when you hit 25 years old, you start noticing that things aren't falling off you the way they used to. I just noticed that I was feeling a bit sluggish, so I started really getting a grip on my diet and getting into shape.
My trainer runs me through boxing drills and we're sparring a bit, but it's mostly just getting punched in the face by him. Physically and emotionally – all the ways you don't want to get hit, he's hitting me.
I'm also a father now, so I'm trying to make sure that my health is at the forefront, so we can tour as long as we can and go home in one piece to our loved ones.
What do you do to motivate yourself?
The hardest part for me was finding a routine that worked. You want it to be as easy as possible – I rarely want to pull myself out of my house. My trainer's been running me through drills I can do in an empty venue – crawling and sprinting etc – as well as hotel room routines.
Our tour manager is on a health tip also, so he's been making sure that the hotels are pretty nice, or have swimming pools. For me it's about building it into my routine and then it's easy.
What's the highlight of your fitness week?
Boxing for sure – it's the thing that exhausts me the most. It's amazing what you can put into a two minute round and how it will leave you feeling completely depleted.
RECOMMENDED: Punching-Bag Workouts For The Gym
It's also the most like playing a gig for me – I've been trying to work our show out in a way where it becomes a second workout. We're really hammering the songs and the first three will run with short breaks, so high intensity for six minutes then a break for a minute where I talk, and then hammer it in back to back again.
People don't realise it's happening but it's all been quite considered – if I miss a workout in the morning then this way I can grab it in the evening. The danger for me is coming off stage and having a drink, because once I do I just want to eat everything and all my hard work is undone.
What will you never do again?
I mostly just hate battle ropes, I'll get on them and go for the first ten seconds and I feel like The Rock and then when I finish after 20 seconds I'm a newborn baby giraffe, all over the place.
How is your fitness fingerprint unique to you and your career?
Our routine is shook every day – I am a creature of habit but I find it so much easier to break a routine than to build one. Once it's broken it's so hard to start again. It's mostly about trying to capitalise on having an on-the-road routine and an off-the-road routine and trying not to deviate from it as much as possible.
The opportunity to change it up so drastically every day is beneficial – it can be a bit of a drag if you're going to the same gym, seeing the same people and running through the same workout constantly, it can actually make things quite hard for you. The changing the scenery can mean that it's actually quite easy to keep myself feeling pretty fresh with it.
Frank was involved in The Ride 2016 with Sailor Jerry. Follow the action sailorjerry.com (opens in new tab). His single Lullaby is out now (buy on iTunes (opens in new tab)) and new album Modern Ruin will be released on January 27.
Sign up for workout ideas, training advice, the latest gear and more.
Thank you for signing up to Coach. You will receive a verification email shortly.
There was a problem. Please refresh the page and try again.