Tinie Tempah: I Don't Think I Could Live Without Kettlebells
By Gary Ogden published
The rapper and Barclays LifeSkills ambassador is over KFC, but all about kettlebells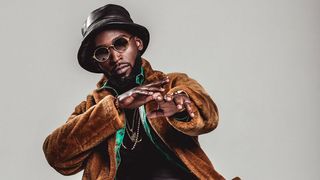 (Image credit: Unknown)
What is Barclays LifeSkills?
We've come up with something pretty amazing – offering work experience of a lifetime to people who might not be able to achieve or attain that. We've opened our doors at Disturbing London and are raising awareness about the whole scheme. Growing up I never had many people offering me opportunities like this one – I think it's important to pay it forward.
What's the most extreme thing you've done in the name of good health or fitness?
I'd be lying if I said I've fasted because I haven't, but I've been able to do a half fast, when you wake up in the morning and you don't eat until like four or five. I could do that pretty much any time, I've disciplined myself. That's quite an extreme thing because I know some people can't get past breakfast! Also, a lot of the breakfast stuff I like is not really that healthy anyway...
How do you avoid the lure of the service station pasty?
I'm just over it. Ginsters? You guys can have it, I don't want it anymore. Trust me, you don't know how long we've been on the road – for the first couple of years, when you see a service station it's almost like seeing Thorpe Park. You think "Oh wow, look at all these amazing things! Burger King! KFC! Even WHSMITH!!" But not anymore, we're over it now.
Have you ever pulled a muscle in less than heroic circumstances?
I remember after doing loads of performances I woke up and felt like my chest was closing together, so I ran to the hospital and was like "Something's happening to me!" The doctor was like "You've bruised a muscle." I was about to have a nervous breakdown. I did it just through performing, so that was definitely less than heroic.
Which excuse for not going to the gym/working out are you most ashamed of?
I'm always making up the excuse that I'm tired, I'm an artist, I've got lots on, I need to be focused in my mind, I've got a performance later – these excuses fly out all the time. I'm not particularly proud of it – I'm confessing it to you right now...
Is there a piece of gym equipment you can't live without?
I think calisthenics is the best, working with your bodyweight – there's nothing that beats it in terms of achieving the look I want. You can be ripped, cut and big all with your own bodyweight. But I also think a kettlebell is great – you can do Turkish get-ups, goblet squats, you can work your shoulders as well, loads of different things. So right now, I don't think I could live without kettlebells.
RECOMMENDED: Kettlebell Workout Guide
What's the longest you have gone without alcohol in the name of good health?
A good few months I reckon – my lifestyle is quite party-orientated in some aspects, so it's quite hard to avoid alcohol, but I'm not big on drink. I probably could give up for a good few months if I wanted to tomorrow, apart from the fact that Christmas is coming up...
What's the worst type of gym behaviour?
The guy or girl who's doing it for show – that's how a lot of people get injured. I think that's the worst – going to gyms where there's a lot of ego and bravado and no real technique, everyone's just trying to show you how strong they are, I don't really like that.
No, I used to use the Nike armband for a little while to keep track of steps and movement and whatnot. But I know I'll work hard and I'm always keeping fit so I haven't really had to rely on any apps. It's not like I'm trying to do 10,000 steps by the end of the day, I know I do it anyway, so it's cool.
What is your guilty pleasure?
Burgers. I made a mixtape called Junk Food in 2015 – it wasn't literally about hamburgers, but the artwork expresses how much I love them. I did a listening party and got Shake Shack involved to give everyone free food – I just can't live without them. I'm 27 and I'm going to keep going for it until my body actually says "No, you can't." All the best things in one: brioche bread, meat, salad, it's everything you need on one plate.
Tinie Tempah, in conjunction with Barclays LifeSkills, has launched the 'Work Experience of a Lifetime' programme, for 18-24 year olds, who want to secure a placement at the likes of Premier League, Shazam, The O2 and with Tinie Tempah himself. You can still apply until Sunday 4 December at barclayslifeskills.com/dream-job (opens in new tab)
Sign up for workout ideas, training advice, the latest gear and more.
Thank you for signing up to Coach. You will receive a verification email shortly.
There was a problem. Please refresh the page and try again.