Sound Advice From Aaron Eckhart: "Just Be Yourself"
By Gary Ogden published
Words of wisdom the actor received via Harrison Ford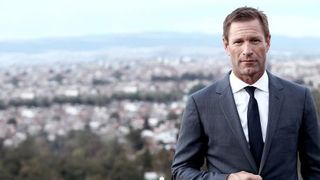 (Image credit: Unknown)
In Sully, one man saves 155 lives. Has anyone ever saved your life?
In fact, Rosie Perez (White Men Can't Jump) saved my life one time. In New York City, a bus was going to hit me and she pushed me out of the way. I have angels around me that I believe are saving my life – I fell off a cliff 60ft onto rocks when I was 11 – it should've killed me. Saving lives was Sully's number one concern – he still laments the fact that there was one flight attendant on the plane who got hurt.
Is Tom Hanks really the nicest guy in show business?
He's damn nice. I don't know everybody in the business – but to be Tom's stature and still have time, attention and focus for all the people around him, regardless of stage or station, is amazing. He loves to tell stories and that's how you figure out where he is on set – where is there a conversation about some obscure play that happened in Middle America in the '50s? Oh, that's where Tom is.
What about Clint (Eastwood)?
He's a part of movie history and he knows stories that nobody else knows. Like: during the Spaghetti Western era he used to smoke cigarillos, and because I smoke cigars I said: "Clint, what was your cigar?" He said: "I hated cigars and I hated smoking." He used to go down to Mexico and get these cigarillos – they were the worst tasting, harshest ones and so that's what gave him the grimace on his face. So there's Clint right there – Method actor.
With every film comes criticism, but who is your greatest critic? Whose opinion do you care most about?
I say to my friends: "When you go and see this film, come out of it, smile, tell me you like it and let's move on with our lives." I don't want to hear that it's bad, because we all work so hard on these movies, and however they're received really has no bearing on the experience.
On the other hand, people have no trouble telling you how they feel. One time I was in an airport and this guy screamed at me: "Aaron Eckhart, you sucked in such-and-such movie!" The switch flipped in my head and I walked towards him, locking eyes, and said: "What did you say to me?" and he started shrinking down.
It's nice when people do like the movie though, and they have a story beyond that. I think the primary example is Thank You For Smoking. People have given up smoking – I don't know how many times I've heard that!
What's the best piece of advice you've ever been given?
When I was young I was living in New York City and one time I saw Harrison Ford walking past. I just locked onto him and the first thing he did was try to turn around and walk away. I wasn't having that, so I said: "Hello Mr Ford, I'm a big fan, can I just take a moment of your time for some advice?" He said: "I'm going to go and get takeout, come with me." While we were waiting he said: "Listen, I don't give advice, but I'm going to give you some: Just be yourself." So if I'm talking to young actors today, I tell them to put their unique personality into everything that they do. If you look at any movie star or charismatic figure in politics or rock'n'roll, we like to watch them because of the way they interpret life and that's the key.
Who do you turn to for down-to-earth advice now?
Al Pacino used to do that for me – I could always call him. But you know what? My thing is this: we have it all inside of us. Every time I think I should go outside of myself for advice, I say: "Wait a second," and I take a quiet moment to trust my feelings. It means obeying your instincts – that's the scariest thing because usually we'll talk ourselves out of things. So now I really don't ask people's advice.
They say you should never meet your heroes – have you ever found that not to be true?
We shouldn't put these people up on pedestals, because if we know one thing in the world, it's that we're going to be let down by other people. I've had a lot of times where people have said: "You're the first celebrity that I've ever met," and I apologise for that, but I try and make it a good experience. I think it's important, especially if it's someone who has a dream themselves – you never want to put anybody off their dream.
Aaron stars in Sully and Bleed For This, both in cinemas December 2
Sign up for workout ideas, training advice, the latest gear and more.
Thank you for signing up to Coach. You will receive a verification email shortly.
There was a problem. Please refresh the page and try again.