Grime Master D Double E: "Fitness deserves more love"
By Gary Ogden published
Early morning workouts, weighted dips and tight T-shirts, D Double E's journey to a summer body that lasts all year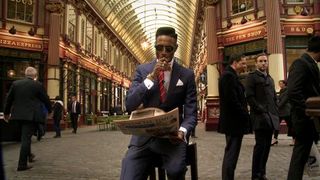 (Image credit: Unknown)
One half of Newham Generals, D Double E, has been a big player in the grime scene for years now, constantly appearing at the top of his game. But how do you juggle being a winner on stage and a winner in the gym?
What do you do, fitness-wise?
The first things I do are stretch, then four sets of 10 dips, then four sets of 10 pull-ups. That's my warm up, and then I go into what I'm working on that day: arms, legs, whatever. With dips I need a 10 or 15kg weight around my waist now – I can lift my bodyweight too easily. It's a good time to speak to me at the moment, I've been keeping it up, going at 8am. I'm on a fitness one at the moment, man, it's a good time.
How would you rate your fitness on a scale of one to 10?
I would say seven, but I'm looking to get to ten. A couple of years ago I looked my best – I want to get back to that level. There's a freestyle from a few years ago on YouTube from Outlook festival, and all the comments are like: "D Double E is big!" I'd got myself ready for the festival – everyone wants to put vests and shorts on, show off their hard work. But now I've lost it all…
What music do you listen to when you work out?
I go to a gym where as soon as I walk in, all of a sudden I start hearing grime. I also go to another, more built-up gym and they just play normal commercial music – I don't really take any notice of it. I just go there to work. If I was listening to music I'd be bopping my head in the middle of a bench press – it's going to be messing up my brain.
RECOMMENDED: The Best Workout Music
How is your fitness fingerprint unique to you and your career?
I'm not treating fitness right. Fitness deserves more love – music definitely affects me going to the gym, but it's also making me have to take it more seriously. I always go to the gym for the summer, then as soon as it's over, nobody cares, so this year I'm trying to push through until next summer, and then I'll be the best I've ever looked. Because I have less time, I have to get up at 8am in the morning to work out. People say: "Let's go after work," but after work is when my work starts!
There's also pressure in the music industry, particularly for women – everyone wants to look better. You've got skinny jeans, these tops that are bloody super-tight, clothes that help to reveal it. I'm only understanding it now – I'll be in the gym and look at my arms when I put a shirt on and I'll want them to fill it out a bit more. I'm like, "Oh, this is why everyone's got the tight T-shirts on!" But I'll never wear tight jeans, because I'm not a legs guy – I don't like them enough to show them all the way to the top and stuff…
What can we expect from your set at Hospitality In The Park?
I still listen to drum and bass and I've got a lot of friends in the scene, like Randall, Goldie, Harry Shotta, Shabba. I love listening to old-school stuff, I love reminiscing, so I'm going to stick around – it's going to be good vibes.
D Double E will be playing at Hospitality In The Park, Finsbury Park, September 24, hospitalityinthepark.london
Sign up for workout ideas, training advice, the latest gear and more.
Thank you for signing up to Coach. You will receive a verification email shortly.
There was a problem. Please refresh the page and try again.