Nikki Sixx: "My Hero Was Calling Me and Singing to Me About My Drug Addiction"
By Gary Ogden published
The former Mötley Crüe member and Sixx:A.M. bassist on the people who helped him back from hell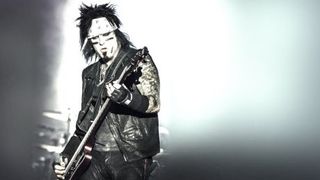 (Image credit: Unknown)
Who helped you the most when you were starting out?
Allen Kovac [Mötley Crüe's manager for over 20 years] was the guy that made all the difference in Mötley Crüe's career. Allen believes that the artist comes first, whereas a lot of labels and managers believe they come first. He wants to know what the artist is going to create, and then he wants to help you figure out a way to make it better. He takes an idea, figures out how to magnify it and grow tentacles off it. He's the most influential person in my life.
Metal is known for its posturing and violent image – who in metal is least like that?
Metal is known for its posturing and violent image – who in metal is least like that?
I just befriended Matt Heafy from Trivium – they're heavy as fuck, but he's the nicest guy. He's a foodie – you go to his Instagram and it's all about food. You might listen to Trivium and go, "They might eat my children" but the truth is they're some of the nicest, most talented guys out there and I think they're a fantastic band. That's a nice surprise when you find that out. When people meet me they realise how boring I am – if you came to my house for a weekend, you'd leave and go, "That was the worst, I just watched re-runs of Cops from 2008 all weekend…"
RECOMMENDED: Matt Heafy Interview
Who saved your life?
Many people have saved my life, mainly the ones who said, "I want nothing to do with you unless you get back to being you". The worst thing for an artist is a yes man – you see a lot of people and you have to get through the gatekeepers and the yes men to get to the person who used to be such a great guy. You've got to get the shit off your shoe, and I found that the people in my life that were brutally honest with me and said, "No, you're in the wrong and I'm going to tell you why" – those are the ones that can get you back on the path.
People say you shouldn't meet your heroes – when have you found that to be false?
When I was going through the '80s, on a real bad run with heroin, Steven Tyler used to call my voicemail – it would go "beep, You have three messages", and it would be like "Yo, it's Steven Tyler, you gotta get off the junk, boy!" And he'd start singing me songs like, "Because I love you, I love yooouuu, call me back!" My hero was calling me and singing to me about my drug addiction – he'd just got clean himself. I'll never forget that of Steven.
I remember during our Girls, Girls, Girls tour we had a private jet that was painted black with a naked woman on the side and we were at our worst behaviour ever – our stewardess was topless and brought us silver trays with cocaine and champagne, that was our dinner after the show. Aerosmith were clean and sober at that time, and they'd be like "We're here for you guys". We didn't get it at the time, but I'll never forget it, they were always there. There was no agenda, it was just, "Hey man, we get it".
Who is the classiest act in music?
I have a lot of respect for Lady Gaga, I think she's the real deal. I think she's kind, she's outspoken in a good way, and she's willing to put herself in the line of fire. Like doing that Bowie tribute was a dangerous thing, so I have a lot of respect for her – I don't really follow many people on Facebook, but I do with her and I find her to be really classy.
There's so many, I don't know! I come from another generation, and there are certain things that are part of your culture, so getting a seeing-to behind the bar at a club from the waitress was just OK in my time. It wasn't like she was ashamed or I was ashamed, we were just doing it – it was just a different time. I was talking to my son about monogamy and he goes, "Men that cheat on women and go to strip clubs? What kind of person is that?" and I was like, "Oh, that used to be me, I'm sorry". I think that bands today have some kind of moral compass, but I'm hoping that there are some out there that are doing something irrational. I don't think about ramifications, I don't think about rules. Bands today recycle. Who the fuck recycles?
Sixx:A.M.'s new single "Rise" is out now, and their new album Prayers For The Damned is released on 29th April. Preorder on iTunes (opens in new tab).
Sign up for workout ideas, training advice, the latest gear and more.
Thank you for signing up to Coach. You will receive a verification email shortly.
There was a problem. Please refresh the page and try again.