The 10 Best GoPro Adventure Videos on YouTube
By Chris Sayer published
New film Hardcore Henry is shot entirely from a GoPro-esque first-person point of view, but can it top these exhilarating real-life videos?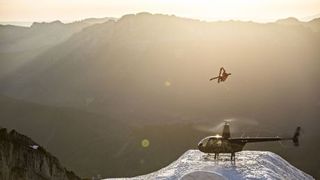 (Image credit: Unknown)
It's near impossible to head up a mountain, splash around in the surf or stumble around a summer festival these days without seeing small black boxes attached to the foreheads of fellow skiers, surfers or party-hungry music lovers. Such is the astronomic rise of the GoPro camera, invented just over a decade ago by Nick Woodman using a broken surfboard leash, elastic bands and a disposable camera to record him wave riding in Australia. Now it's a billion-dollar product and even Hollywood films, like Hardcore Henry (in cinemas from 8th April), are being shot entirely on these miniature go-anywhere cams.
Here's ten of the best GoPro adventure edits that should inspire you to get outdoors and do something awesome this weekend.
RECOMMENDED: Best Action Cameras
1. Kelly McGarry's backflip over a 22m-wide canyon
If you can watch this without doing a mini air punch when the crowd goes wild on landing, you must be a little dead inside. The most messed-up thing about Kelly's incredible run in 2013's Red Bull Rampage? It only earned him second place. The winner must've caught a golden eagle in his teeth mid-flight to go one gnarlier than this. Incredible.
2. Candide Thovex's crazy ski run
We practically spat our morning Americano across our keyboards when watched this utterly mind-frying ski edit back in January. Sure, it's not entirely real, but top marks go to X Games-winning Candide for creativity. We're not expecting to see you hitchin' a ride on a donkey in your next snow holiday edit, but this should give you some inspiration to be a little more daring in the future.
3. Jeb Corliss's flight down a mountain
Yeah, "grinding the crack" may sound like an NSFW kind of video, but "the crack" in this case is the rocky and deadly path that wingsuited Jed admits he is getting "extremely close to" in this edit. There are stacks of wingsuit vids just like this one out there, but Jed makes our cut for being one of the first to don a GoPro before flinging himself off a cliff.
4. Alex Gray's $20,000 Fijian barrel
Unsurprisingly, given GoPro's original purpose, there are more POV surfing videos on YouTube than we care to count. Not all of them have earned the shooter a cool $20k, though. That was the prize given to wave rider Alex for catching this absolutely stunning barrel in Fiji. That reaction at the end? Yeah, we want a piece of that feeling please.
5. Walter's run to the beach
Pretty much sums up exactly how we've been feeling all winter, this.
RECOMMENDED: The 30 Greatest Outdoor Challenges For Men
6. Worthless Films' for-the-hell-of-it bicycle lake jump
"Just another day on the lake with the boys" reads the caption to this edit, which has already got us digging around for an old mountain bike and a few sheets of ply, and plotting which lake we should ride into face-first when the weather gets good. See you by the water, yeah?
7. Jay Alvarrez's envy-inducing Californian trip
All right, let's just leave the who-the-hell-does-he-think-he-is? attitude at the door and accept that if we all could live life like this guy, we bloody well would. In what can only be described as an endless summer, lucky old Jay, with his very pretty ladyfriend Alexis Ren, exists in what can only be described as one big advert for quitting your job. If our summer holiday gets even close to looking like this video, we'll be very happy indeed.
8. Rush Sturges and Ben Marr's ditch kayaking
"It's super chill," predict these two adrenaline-seeking nutballs, right before they start screaming like petrified old women as they bomb it down this 800-metre descent in British Columbia at 45mph. Super chill it ain't, boys. But super fun it certainly is.
9. Rudi and MJ's bike ride around Philadelphia
Proving that there's adventure waiting for you just outside your front door, Rudi and his pet cat MJ tour the streets of Philly on two wheels (or, in MJ's case, on two shoulders). C'mon, you wish you could make your cat do that.
10. Sam Cossman's volcano dive
See that furious pit of molten magma? That's the world's most inaccessible volcano, the Marum Crater in the South Pacific. According to Sam, an adventurer and filmmaker, more people have set foot on the moon than inside it. Thanks to this lunatic crew and their GoPro, you can experience what it's like there without singeing your eyeballs off.
Craft beer drinker, Devonian, fisherman and former content director of Coach online, Chris contributed style coverage and features between 2016 and 2019.
Sign up for workout ideas, training advice, the latest gear and more.
Thank you for signing up to Coach. You will receive a verification email shortly.
There was a problem. Please refresh the page and try again.