The Newest 'Transporter' Talks Knife Fighting and 3% Fat
By Coach Staff published
The Game of Thrones warrior, Ill Manors gangster, and highly skilled mercenary driver reveals the secrets of staying so trim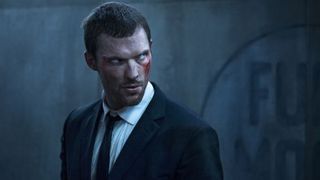 (Image credit: Unknown)
Stepping into Jason Statham's shoes as The Transporter is a tough task, as is going sword to sword with Ryan Reynolds in the upcoming Deadpool, but Ed Skrein is more than up to it. Now he's sharing the screen with Nicholas Hoult in gutsy satire Kill Your Friends, Ed reveals what it takes to keep his top-tier fighting form.
How would you rate your fitness on a scale of 1 to 10?
Right now I'm about an 8. I've been higher – when I was training for Deadpool, I was 3% body fat, training twice a day and eating seven meals a day. Although when I went to Japan to promote The Transporter Refueled I just thought, "I'm gonna eat whatever the hell I want". So I had deep fried dumplings, pork buns, all the sushi – I was going nuts. I probably went up to about 12% body fat – I was really chilled about it, but it's all about yin and yang.
What do you do, fitness-wise?
For The Transporter, it was all martial arts – I did not pick up a weight for four months. For Deadpool, I wanted a stronger silhouette, so I was doing weights instead. I practice boxing and kali escrima, which is Filipino knife and stick fighting – it's so fun and it's a great discipline.
Where does your fitness come from?
I've always been a sporty dude, I was a competitive swimmer when I was a kid, and I did half marathons and triathlons later on. Me and two guys swam the English Channel in 2009, and in 2011 we cycled 1,000 miles for charity.
What's the highlight of your fitness week?
I love finishing work on legs. I did legs yesterday and when I finished, I thought, "You can fuck right off for another six days, I'm not going near that squat rack". That's the best feeling.
What will you never do again?
Cycling. When I finished the 1,000-mile bike ride, I got to John o' Groats from Land's End and I was so sick to death of that piece of shit. We had to break our bikes apart to put them in boxes to come back down on the train, and I never took it out again, I just sold it. I know there's enthusiasts out there, but I'm sick to death of it.
How is your fitness fingerprint unique?
Having to think about body fat percentage is quite a specific thing. Most people would be like "It's all right man, just have one beer" but I have to be so much stricter than everyone else. I'm not even someone that drinks that much – I just like a glass or two of red wine at the end of the day!
Although some weeks I don't even feel like cheating. You have to spike your metabolism though, you have to do it so you'll be sane by the time you get to Wednesday. So I'll go to Five Guys and get a double bacon cheeseburger, then go to the craft beer shop, get two beers and force myself to drink and eat them. And I'm thinking, "You're mad, you wanted a beer so badly and now you don't want it!"
Ed Skrein stars in Kill Your Friends, which is out in cinemas November 6
Coach is the place to come for all your health, fitness, and personal wellness needs.
Sign up for workout ideas, training advice, the latest gear and more.
Thank you for signing up to Coach. You will receive a verification email shortly.
There was a problem. Please refresh the page and try again.