The Women's Fitness Seven Day Fat Loss Diet
By Coach Staff last updated
One week is all it take to get your diet on track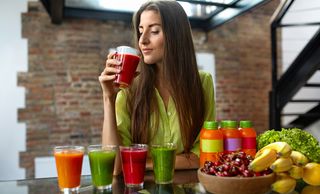 (Image credit: Unknown)
So, you know that what you eat can transform your health for the better, but how do you get started? We've put together a seven-day diet to change your relationship with food and put you firmly on the smart eating path.
Our diet is designed to wean you off the bad stuff and fill you with nutritious, delicious fare instead. You can expect increased vitality and better concentration. You may shed a couple of pounds and a flatter tum is almost guaranteed. And you won't go hungry as every day you'll eat three meals and two snacks. Although the diet only lasts one week, you can easily follow the plan for up to a month, which could mean losing up to 8lb!
The menu is designed with both taste and health in mind, and you'll notice meals all contain fat, carbs and protein. We've included more carb-rich meals during the day to keep your energy levels up. In the evening, meals are based around protein and vegetables to supercharge weight loss.
Day 1
Breakfast: Oaty breakfast delight
Crush two oatcakes in 150g Greek yoghurt and top with 1tbsp mixed seeds and a handful of blueberries and raspberries.
Morning Snack: 2 plums and 2tbsp almonds
Lunch: Sweet potato pancakes
Grate 1 sweet potato and combine with 2tbsp peas and 1 finely chopped onion. Shape into patties and dip in 1 beaten egg and coat in ground flaxseed. Pan-fry and serve with salad.
Afternoon Snack: Unlimited carrot crudites with 2tbsp guacamole
Dinner: Chicken with stir-fried veggies
1 grilled chicken breast topped with 2tbsp soy sauce. Serve with mixed stir-fried vegetables of your choice.
Day 2
Breakfast: Chia smoothie
Blend 250ml coconut milk with 1tbsp ground chia seeds, 1 banana, 5 strawberries and a pinch of cinnamon.
Morning Snack: Unlimited cucumber sticks with 2tbsp Greek yoghurt.
Lunch: Detox-in-a-day soup
Cook 50g broccoli, 100g kale, 100g butter beans in 300ml water. Add 1 crushed garlic clove, a pinch of cinnamon and ginger, and blend until smooth (add more water if needed). Serve with a small seeded roll.
Afternoon Snack: 2 oatcakes with 2tbsp houmous
Dinner: Salmon with Italian-style vegetables
Roast 1 yellow pepper, 4 cherry tomatoes and 3 slices aubergine and serve with 1 grilled salmon fillet.
Day 3
Breakfast: Coconut and blueberry pudding
Combine 2tbsp ground flaxseeds with 100ml coconut milk, (or enough to make a thick consistency) with 2tbsp (heaped) of mixed berries, and gently crush. Place in the fridge overnight. Top with 1tsp mixed seeds and serve.
Morning Snack: 2 clementines and 2tbsp almonds
Lunch: Veggie burger and salad
Grind together 200g tinned chickpeas, 1 onion, 1 garlic clove, 1 chilli and 1tsp cumin. Shape into patties and pan-fry until golden. Serve with a side salad.
Afternoon Snack: Cup of miso soup
Dinner: Yoghurt-spiced turkey breast with greens
Marinate 1 turkey breast in 100g Greek yoghurt, ½tsp cumin and ½tsp paprika. Grill and serve with unlimited steamed mange tout, peas and spinach.
Day 4
Breakfast: Eggy bread
Chop 1 onion and 1 chilli and place in a bowl with two eggs, beaten. Dip two slices of wholemeal bread in the mixture and pan-fry until golden. Serve with unlimited steamed spinach.
Morning Snack: Unlimited celery sticks with 2tbsp Greek yoghurt
Lunch: Stuffed sweet potato
Bake 1 sweet potato. Scoop out the middle and mix with 100g tinned cannellini beans, 2 chopped cherry tomatoes and 1 chopped spring onion. Put back into the sweet potato skins and serve with unlimited steamed kale.
Afternoon Snack: Cheesy tomato
Cut one large tomato in two and grill. Top with 20g feta and place back in the oven until the cheese has melted.
Dinner: Prawn stir-fry
Cook 100g prawns with 150g stir-fry vegetables. Add 1tsp soy sauce, juice of 1 lime and top with 1tsp toasted mixed seeds. Serve with 1 sliced courgette.
Day 5
Breakfast: Ginger and pear spiced porridge
Chop 1 pear and add to 50g oats cooked in 100ml semi-skimmed milk. Add a pinch of ground ginger and ground cinnamon.
Morning Snack: 1 banana topped with 1tbsp almond butter.
Lunch: Dice 1 spring onion and 3 cherry tomatoes. Mash 2 small avocados and combine. Spoon the mixture into a wholemeal pita bread and serve with a side salad.
Afternoon Snack: 2 rice cakes topped with 2tbsp cottage cheese and black pepper.
Dinner: Chilli con carne
Dice 1 onion and 1 garlic clove. Pan-fry with 150g chopped tomatoes and 100g lean beef mince. Add ½tsp chilli powder, 1tsp cumin and 50g red kidney beans. Finely chop 150g cauliflower and lightly steam. Serve the chilli con carne on top of the steamed cauliflower.
Day 6
Breakfast: Overnight chia oats
Combine 3tbsp of oats with 2tsp chia seeds and soak in 4tbsp semi-skimmed milk and 2tbsp Greek yoghurt overnight. In the morning add half a sliced banana, a handful of mixed berries and 1tsp almond butter.
Morning Snack: Protein smoothie
Blend 250ml almond milk with 1 scoop of protein powder, 1 banana and 3 strawberries.
Lunch: Turkey wrap
Mix 50g yoghurt with unlimited grated cucumber. Spoon on to a wholemeal wrap and add three slices of turkey and fold. Serve with a side salad.
Afternoon Snack: 2 clementines and 2tbsp cashew nuts.
Dinner: Roast cod fillet
Roast 1 cod fillet with lemon and parsley. Serve with unlimited steamed broccoli, cauliflower and kale.
Day 7
Breakfast: Toast with almond butter
2 slices toasted seeded bread topped with 2tbsp almond butter.
Morning Snack: 1 pear and 2tbsp almonds.
Lunch: Baked sweet potato with cottage cheese
Top 1 baked sweet potato with 2tbsp cottage cheese and unlimited grated cucumber. Serve with unlimited steamed broccoli and spinach.
Afternoon Snack: 1 pot Greek yoghurt topped with half a grated apple.
Dinner: Superfood omelette
Sauté a handful of spinach, 2tbsp peas and 3 mushrooms in a frying pan. Beat 2 eggs and cook with the other ingredients, omelette-style. Serve with a side salad.
This article first appeared in Women's Fitness
Coach is the place to come for all your health, fitness, and personal wellness needs.
Sign up for workout ideas, training advice, the latest gear and more.
Thank you for signing up to Coach. You will receive a verification email shortly.
There was a problem. Please refresh the page and try again.