Lose Weight Fast With This Two–Week LBD Diet Plan
By Louise Pyne published
It's party time! Lose up to 4lbs in 14 days with our super-easy weight-loss plan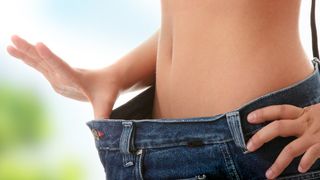 (Image credit: Unknown)
Designed to help you shift fat in those stubborn trouble spots (think squidgy thighs and bottom, flabby arms and sticky-out tummy), leave you with supermodel-style skin and tons of energy, this 14-day LBD diet plan is your fail-safe solution to feeling fantastic!
How It Works
Below we've outlined a selection of breakfast, lunch, dinner and snack recipes. Every day you should eat three meals plus two snacks (one in between breakfast and lunch and one between lunch and dinner), choosing from the ideas below. Our meals are designed to keep blood sugar levels even, which will stop you caving into cravings. They are also crammed with super-nutrients like vitamins, minerals and antioxidants, which will keep you feeling at your peak. Our recipes are easy to make when time is short, too, and we've also indicated where you can bulk-cook so you save even more time. If you follow the plan and exercise two to three times per week, you can expect to lose up to 4lbs!
Breakfast Ideas
Scrambled eggs with greens: Scramble two eggs and serve with unlimited steamed green beans
Toast with nut almond butter: 2 slices of wholegrain toast topped with 2tbsp almond butter
Super-seed yoghurt: 150ml low-fat natural yoghurt topped with 1tbsp sunflower seeds and 2 chopped strawberries
Coconut chia porridge: Cover 3tbsp chia seeds in coconut milk and soak overnight. In the morning add a pinch of cinnamon, 1tsp cocoa and a handful of blueberries.
Revitalising breakfast shake: 250ml oat milk blended with a handful of berries, 1 scoop of whey protein and 1tbsp flaxseeds
Banana and peanut butter toast: 2 slices rye toast topped with 1 small mashed banana and 1tbsp peanut butter
Poached eggs with spinach: Poach two eggs and serve with unlimited spinach
Rice cakes with Parma ham and avocado: 2 rice cakes topped with 1tbsp low-fat cream cheese, 2 slices Parma ham and half an avocado, sliced
Homemade museli: Place the following ingredients in a saucepan: 1 packet of mixed nuts, 1 packet of pumpkin seeds, 1 packet of sunflower seeds, 1 packet of dried figs, roughly chopped. Add a little coconut oil and a pinch of cinnamon and stir. Serve 70g with 100ml skimmed milk. Make in bulk.
Berry-style porridge: 70g oats cooked in 100ml almond milk. Top with a handful of mixed berries.
Lunch Ideas
Prawn salad: 100g tiger prawns with unlimited lettuce, tomato, yellow and red pepper and half an avocado. Dress with the juice of half a lemon.
Baked sweet potato with salmon: Bake 1 medium sized sweet potato in the oven and top with a can of flaked salmon, 1tsp low-fat crème fraîche and serve with a green side salad.
Mushroom and tomato pizza: Chop a handful of mushrooms and 1 large tomato. Sauté in a frying pan. Ladle in two eggs and cook on both sides. To finish, scatter over a handful of rocket and serve with a side salad.
Hearty bean stew: Combine half a tin of kidney beans, 1 small onion, 1 crushed garlic clove, half a tin of tomatoes, a pinch of cinnamon and a pinch of paprika, served with 50g cooked brown rice.
Lentil soup: 1 can of lentil soup served with one small wholemeal roll and a green side salad
Salmon pitta: Fill one pitta with a can of flaked salmon, a handful of watercress, 1 small beetroot and 1tbsp low-fat natural yoghurt.
Spanish omelette: Chop 2 sweet potatoes into small pieces and sauté with 1 red onion, 200g cherry tomatoes and 1 green pepper. Beat 2 eggs and add to the frying pan. Place under a grill until golden and serve with steamed broccoli. Makes 4 portions.
Crudités with houmous: Chop unlimited carrot, celery, cucumber and peppers into strips and serve with 150g houmous and 1 wholemeal pitta bread, served warm.
Chicken tortilla: Fill 1 wholemeal tortilla with 100g chicken breast cut into strips, a handful of mixed salad leaves, 3 cherry tomatoes, 50g grated cucumber and 1tbsp low-fat crème fraîche.
Waldorf salad: Combine 70g walnuts with 100g red grapes, 1 chopped apple and unlimited celery and mixed salad leaves. Stir in 1tbsp low-fat crème fraîche, 1tbsp lemon juice and serve with 1 small wholemeal pitta bread.
Dinner Ideas
Salmon with green veggies: 1 grilled salmon fillet served with unlimited green vegetables
Turkey stuffed peppers: Cook 100g turkey mince with 1 onion, 1 garlic clove and half a tin of chopped tomatoes. Add a handful of spinach and stuff inside 1 red pepper. Cook in the oven for 30 minutes. Double this recipe for two portions.
Tofu stir-fry: Sauté 1 small red onion, 1 garlic clove, 1 chilli and 1tsp ginger paste. Add 100g tofu pieces and half a bag of stir-fried vegetables. Stir in 1tbsp soya sauce and serve on a bed of grated carrot.
Ratatouille with quinoa: Cook half a can of chopped tomatoes with half an aubergine, 1 courgette, 1 yellow pepper, all cut into pieces. Simmer until soft and serve with 50g cooked quinoa.
Baked cod with roasted vegetables: Place a piece of cod on some foil with 2tbsp vegetable stock and a slice of lemon. Scatter over slices of red and yellow pepper and 1 sliced courgette. Wrap into a parcel and bake in the oven.
Pesto pasta: 70g wholemeal pasta shells served with 2tbsp pesto sauce and a handful of wilted spinach.
Honey-roasted chicken: Top 1 chicken breast with 1tbsp honey and grill. Serve with unlimited broccoli and cauliflower.
Tandoori chicken kebabs: Marinate 100g chicken breast pieces with 2tbsp low-fat natural yoghurt and 1tsp tandoori chicken. Place on two skewers with cubes of green and red pepper and grill in the oven. Serve with a green salad.
Stuffed mushrooms: Fill 2 large Portobello mushrooms with a mixture of 1 chopped tomato, wholemeal breadcrumbs, 1 beaten egg and 50g feta cheese. Serve with a green salad. Double this recipe for two portions.
Steak with parsnip chips: Cut 1 parsnip into wedges and cook in the oven. Grill 100g lean steak and serve together with the parsnips and unlimited steamed kale.
Snack Ideas
Paprika kale crisps made with half a packet of kale baked in the oven until crispy. Season with paprika.
2 oatcakes with 2tbsp guacamole
1 apple topped with 1tbsp almond butter
1 small pot of low-fat natural yoghurt with 1tbsp mixed seeds
2 rice cakes with 2tbsp houmous
1 stewed pear served with 2tbsp low-fat natural yoghurt
30g low-fat Cheddar cheese
1 boiled egg with 5 cherry tomatoes
2tbsp mixed nuts and 1 plum
Must-have Kit
Get kitchen-savvy with these essential accessories
1. Lakeland Large Serving Bowl
Serve up plenty of healthy salads with this stylish kitchen must-buy. £11.99, lakeland.co.uk (opens in new tab)
2. Paperchase Aztec Lunch Bag
No more soggy sandwiches! Carry your lunch in this pretty lunch bag, which contains an insulating lining for extra freshness. £15, paperchase.co.uk (opens in new tab)
3. Glugg Red Thirst Extinguisher Water Bottle
Sip in style with this super-cool water bottle. The flip-up spout and carry loop make it perfect when you're out and about. £9.95, amazon.co.uk (opens in new tab)
3 Weight-Loss Helpers
Reach your slimming goals with these top buys
1. Bioglan Calamari Gold
Don't let the name put you off! This supplement, made from a natural by-product of sustainable squid, is ridiculously high in omega-3, which has been shown to speed up fat burn. £19.99, hollandandbarrett.com (opens in new tab)
2. Bach Rescue Remedy Lozenges
Stress causes high levels of cortisol, which makes it harder to shift the pounds. Pop one of these pastilles whenever you feel frazzled to help stay calm. £3.69, boots.com (opens in new tab)
3. The Protein Works Flaxseed Powder
Flaxseeds are rich in satiating fibre, so add this powder to your morning porridge, post-workout smoothies or sprinkle over salads for a weight-loss boost. £8.29, theproteinworks.com (opens in new tab)
Morning-after Fixes
Three ways to give yourself a boost after a big night… or two
1. Exercise damage control
Indulged in one too many cocktails? Keep a couple of lemons close at hand and squeeze the juice onto salads, into water and herbal teas to give your liver a helping hand at flushing away any toxins.
2. Steam your way healthy
If you exercise at the gym, make regular sauna and steam room sessions part of your post-workout session. The heat will help detoxify you from within and give your skin a boost. If you don't have access to gym facilities, make sure you body-brush every day using circular motions towards your heart to give your lymphatic system a kick-start.
3. BYO
Been invited to a friend's house for dinner, but can't face any more alcohol? Why not take a healthy dish rather than a bottle of wine, so you can tuck in guilt-free. Shots of cucumber soup, lettuce cups filled with roasted veggies and crème fraîche, homemade falafels or veggie balls will all do the trick.
This article first appeared in Women's Fitness
Sign up for workout ideas, training advice, the latest gear and more.
Thank you for signing up to Coach. You will receive a verification email shortly.
There was a problem. Please refresh the page and try again.