How to last longer in bed
By Alix Fox published
Three top tips on how to last longer in bed from Durex sex expert Alix Fox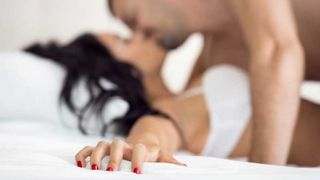 (Image credit: unknown)
Squeeze
There are three types of squeezing that can help you keep a stronger erection for longer, better control when ejaculating. First, try a cock ring, which will gently squeeze the base of your penis, helping you maintain your hard-on. Second, if you can feel your orgasm approaching prematurely, stop and squeeze the area right below the head of your cock. Apply pressure to the urethra, to repress your climax temporarily. Kiss your partner while doing this, to divert them watching you pinch your peen! Finally, studies show that men with greater pelvic floor control can control their ejaculation time better. Time to hit up those Pilates classes!
Cheat
An easy way to make sure you don't cross the finish line too quickly is to choose condoms with a discreet helping hand. Durex Extended Pleasure contains a lubricant with Benzocaine 5%, a mild anaesthetic that slightly numbs the tip of your penis to stop you blowing your load too quickly. Also, Durex Mutual Climax has special lube on the inside, with dots and ribs around to stimulate her genitals – they speed up her orgasm, slow yours done, and you'll most likely have an intense shared orgasm I like to call an 'our-gasm'.
Practice
If you want to go for longer with your partner, practice lasting longer alone. If your body is used to you rubbing one out in a matter of minutes, it's going to associate sex with brevity. Private practice helps you 'train' your penis, and mind. Try a 'start and stop' technique when masturbating, bringing yourself close to climax, and then slowing your strokes so you learn to resist cumming. If you want to get really serious, use hand lotion or even some kind of sex toy to better replicate the feel of a vagina.
Chirpier than a gargantuan aviary and saucier than an HP factory, Alix Fox was the resident expert on sex and relationships for Men's Fitness UK, which predated, and then shared a website with, Coach. She has also been seen on the BBC, Channel 4, E4, ITV and The Discovery Channel. Alix has also written for Bizarre magazine, Time Out and The Telegraph.
Sign up for workout ideas, training advice, the latest gear and more.
Thank you for signing up to Coach. You will receive a verification email shortly.
There was a problem. Please refresh the page and try again.