RideLondon's New Route For 2022 Made It More Accessible Than Ever
By Charlie Allenby last updated
Plus, more observations, advice and tips from riding the 2022 route, to help if you're considering tackling RideLondon next year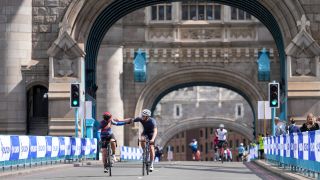 (Image credit: RideLondon / Ian Roman for London Marathon Events)
RideLondon returned in 2022 after a two-year break with a new route for riders to sink their teeth into. Gone was the London Olympics 2012-inspired course with the challenging climbs of Leith Hill and Box Hill, and in its place was a flatter affair that took cyclists from central London to the Essex countryside and back, finishing in style on Tower Bridge.
As before, three distances were on offer (100, 60 and 30 miles) and I signed up to ride the full century. Riding 100 miles in one go might sound like a daunting prospect, but it's surprisingly achievable even if you haven't followed a structured 100-mile training plan. Having completed a number of marathons and long-distance rides, I've found the latter always takes a lot less preparation; as long as you have a good base level of fitness and ride fairly regularly (either cycling to work or longer leisure rides), you should have no issue getting to the finish in one piece.
The new RideLondon route is squarely aimed at people who will see completing 100 miles as the challenge, rather than those attempting to break any personal bests (although the course does lend itself to this, as I found with my fastest RideLondon yet – a finish of 4hr 49min). As I discovered on the weekend, there were a few other elements that made RideLondon a good choice for anyone's first century ride. RideLondon operates a ballot for places. While there's no news on when the ballot for 2023 will open, 2022's ran in January.
1. The Route
The new RideLondon course makes the distance even more achievable, although not on the face of it. The official route (opens in new tab) showed that it was actually slightly longer (2.3 miles) than the advertised 100 miles and also featured 3,623ft (1,104m) of climbing. However, the only notable ascents were over fairly early on, and it was the undulating nature of the course that accounted for most of the elevation.
The mile-long climb (with an average gradient of 2.9%) up Broadmead Road at mile 87 was met with some groans from the riders around me, but it wasn't as bad as the ascent up Wimbledon Hill on the old route.
2. The Roads
The new route favoured A roads and dual carriageways over the scenic country lanes that you can encounter in Essex, and while some more experienced riders may find this disappointing, using wide roads means you can safely pull over to the side if you do need a quick breather. It also helps the event to run safely and cope with incidents, so there was no need to re-route or cut the ride short as with previous editions.
3. The Rolling Start
Previously, participants in RideLondon had to wait in pens before setting off in regular waves. In my experience, this could leave a lot of time between arriving at the start and beginning your ride, and your legs would get cold. It also encouraged "racing" from the start, which could be quite a shock to the system.
The new set-up meant that you could make your way into a well-organised start funnel where delays were minor, weren't left hanging around in the cold for ages and could begin whenever you were ready. It also allowed you to gradually ease yourself into the ride, although nothing can ever entirely get rid of the temptation to let adrenaline get the better of you and jump in with a group of faster riders.
Speaking of groups, if you train solo, riding in a group of 25,000-plus cyclists can feel quite intimidating. Although this generally occurs during the earlier stages of the ride when the peloton hasn't spread out, you may feel surrounded as faster cyclists overtake you and whole chain gangs (bikes being ridden in a formation for aerodynamic benefits) whizz by in a blur.
The only way to prepare for this is to ride with other people. Joining a local cycling club is a great way to get to grips with group riding, and British Cycling (opens in new tab) and Cycling UK (opens in new tab) both have online directories to find your nearest club. You'll soon pick up the skills required to safely ride in a peloton, including hand signals, and riding in a slipstream or two abreast.
4. The Welfare Stops
As in all RideLondon events (and other sportives), there were welfare stops on the route where you can refill your water bottles, grab some free energy supplements and food like flapjacks and bananas, use the toilets, get your bike checked over by a mechanic if there are any issues, and just generally have a break from being in the saddle.
A new and welcome addition is that any time you spend in the welfare stops doesn't count towards your finish time, meaning you aren't penalised for taking a break. This allows you to break your ride up into five manageable chunks, where the furthest distance you'll have to tackle in one go is 32 miles.
RideLondon 2022 Photos
Image 1 of 10
Riders in the RideLondon-Essex 100 sportive line up at the start line on Embankment.
Riders cycle past the Tower of London as they ride out of London at the beginning of the RideLondon-Essex 100.
Riders taking part in the RideLondon-Essex 100 pass through Howe Street.
Cyclists in the RideLondon-Essex sportive riding with the Olympic Velodrome in the background.
Motion blur of a rider as they pass the O2 Arena during the RideLondon-Essex 100.
Cyclists in the RideLondon-Essex sportive head towards the finish on Tower Bridge.
Cyclists in the RideLondon-Essex sportive congratulate each other as they cross Tower Bridge after reaching the finish line.
A close up of the finishers medal as cyclists pass by in the background on Tower Bridge during the RideLondon-Essex sportive.
Rider in the RideLondon-Essex sportive bites his medal in celebration after finishing the route.
RideLondon Route
After being absent from the calendar since 2019, RideLondon (opens in new tab) returned with a bang this spring. On 29th May, 25,000 riders took to the streets of the capital to compete in one of the few closed-road rides in the UK's sportive calendar. The previous seven editions took place in August but it was not just the date that changed – there was a brand new route for 2022.
"It will be over 1,000 days since the last RideLondon by the time it takes place, so we're really excited and looking forward to it," said Hugh Brasher, RideLondon's event director. "We return with exciting new routes into Essex thanks to a new partnership with Essex County Council and an increased ambition for RideLondon to be genuinely for all."
While the 100-mile (161km) course starts and finishes in London as per the old RideLondon-Surrey route, that's where the similarities end. Instead of heading southwest towards the Surrey Hills on a course inspired by the London 2012 Olympic road race, competitors venture north-east into the scenic lanes of Essex.
After setting off along the Embankment towards Stratford, riders hurtle along the car-free streets of the capital before heading into Epping Forest and then out into Essex's rolling countryside.
From Ongar, the gently undulating lanes of west Essex whizz by as the route heads north through the chocolate-box villages of Fyfield and Leaden Roding and out towards Great Dunmow.
At the halfway mark on the outskirts of Braintree, riders are able to follow in the tyre tracks of Chris Froome and Geraint Thomas as the RideLondon-Essex 100 route shadows that of Stage 3 of the 2014 Tour de France for about 16km (10 miles), before changing tack on the outer limits of Chelmsford and taking a more direct path back to the capital.
"It's very difficult to say what the best bit is but I think what will surprise people is the beauty of Essex," said Brasher. He added that he hoped RideLondon will show riders and the wider world what the area has to offer and change the opinion of those "who just know Essex from a TV programme".
Brasher admits that there is less climbing to tackle than in the previous Surrey-based editions, but even so, riding 100 miles in one day is still a challenge comparable with running a marathon.
"If you ask how many people have cycled 100 miles in a day, it's not that many," he says. "I personally hadn't done it until quite recently and it's just a great challenge."
As with the previous editions of RideLondon, there were also two shorter distances.
All three distances – 100 miles, 60 miles (96.5km) and 30 miles (48km) – start at Victoria Embankment and finish against the iconic backdrop of Tower Bridge, and the shorter events are abridged versions of the 100-mile route. The RideLondon-Essex 60 route turns back towards the capital on reaching Ongar, while the RideLondon-Essex 30 takes riders as far as Woodford.
Sign up for workout ideas, training advice, the latest gear and more.
Thank you for signing up to Coach. You will receive a verification email shortly.
There was a problem. Please refresh the page and try again.