I Never Thought I Would Be The Kind Of Person Who Would Ride A Bike
By Sarah Berry published
The writer behind Diary Of A New Cyclist explains what changed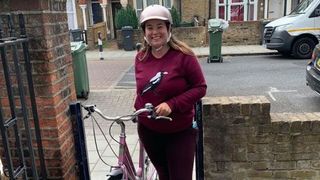 (Image credit: unknown)
I never thought I would be the kind of person who would ride a bike.
A whole bunch of factors led me to reach that conclusion. Firstly, I'd never been very good at it. As a kid, when my friends left their training wheels behind and started to embark on wild adventures on our wide suburban streets, I stayed stubbornly in my comfort zone. The training wheels stayed on and not only did I keep to the pavement, but I got off my bike to wheel it across any driveway I crossed, anxious that the slight incline would send me tumbling into oncoming traffic. An accident involving a small hill and misbehaving brakes was all I needed to decide that cycling was not for me: the bike went back into the garden shed, never to be seen again.
By the time I reached adulthood I was even more assured that bikes and I just didn't mix, mostly because I never really saw anyone who looked like me riding them. Most of the cyclists I saw braving the streets of London were men who looked like they were dressed for battle in armour made entirely of Lycra. I was an awkward fat woman who almost always wore dresses – all things that felt like marks against me in the cycling aptitude test I assumed I'd have to take the minute I stepped into a bike shop.
But then, COVID-19 happened and my world suddenly got a whole lot smaller. As someone who never really took to driving, I always relied on buses and trains. But all of a sudden, taking a spot on the Tube to visit friends or get a change of scenery felt like something I couldn't justify. If I wanted to leave Brixton, I'd have to do it by bike.
A few days after I came to this realisation, a letter arrived that would change my life. It was from my local council explaining that they would soon be introducing changes to make it safer for people to walk and cycle. After all that time feeling like cycling wasn't for me, it turns out this tiny nudge was all I needed. That afternoon I set off to the local bike shop and, with the help of my boyfriend who knew what he was doing, bought my very own pink bicycle with a helmet to match. And even though I was still too frightened to actually ride the thing home, it felt like the start of so
See related
From there I started small. A ride up and down the street in the early hours of a Sunday morning, when everyone was still asleep. Slow laps around the park, terrified of crushing a toddler or a terrier. And then, one morning when I was feeling brave, sneaking out while my boyfriend was in the shower to ride the five minutes to the local bakery by myself for the very first time. By the time he stepped out of the bathroom I was back – puffing, sweaty and smiling, with some pain au chocolat and a sense of pride much larger than warranted.
From that moment on, something had genuinely changed in me. To be clear: it wasn't my cycling ability. Despite nine months of cycling under my belt I still can't signal and I regularly fall off my bike. But not being a good cyclist or even a typical one just didn't matter to me any more. My local council had given me the permission I needed to get on my bike, to make me feel like it was OK to take up that space even if I wasn't an experienced rider. That was all that was needed to transform me into the cyclist I never thought I could be. And I've never been more happy to be proven wrong.
Coach is supporting the Bike Is Best campaign and hopes to inspire more people to cycle with stories like Sarah's. Visit the Bike Is Best website (opens in new tab) for advice on how to get started and read more from Sarah Berry on Medium (opens in new tab).
Sarah is a writer, podcaster and campaigner from south London. After discovering the joy of cycling during lockdown in 2020, Sarah began advocating for safer streets and better cycling infrastructure. She's since been named one of Cycling UK's 100 Women in Cycling, 2021 (opens in new tab).
Sign up for workout ideas, training advice, the latest gear and more.
Thank you for signing up to Coach. You will receive a verification email shortly.
There was a problem. Please refresh the page and try again.