Sign The "Bike Is Best" Petition To Support Better Cycling Infrastructure – We Are
By Coach Staff last updated
Would you like to cycle on safe and welcoming streets? Then let the people in charge know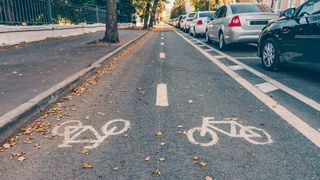 (Image credit: Unknown)
While we all want to return to normal as soon as possible, it'd be great to return to a better normal – one where you can work from home when it makes sense, or one where all the people who rediscovered the joy of cycling aren't squeezed off roads by returning traffic.
The number of people cycling rocketed during lockdown. Partly because it was a way to avoid public transport. Partly because it's an awful lot cheaper than buying a car to avoid public transport. And partly because if you've got one outing a day for exercise you might as well make the most of it with a long, leisurely bike ride on near-empty roads.
We're confident everyone who took it up has discovered cycling is a surprisingly quick way to get around, often quicker than any other means of transport, as well as a great way to get outside and enjoy the sunshine and to add some much-needed activity to the confined life we experienced during lockdown.
To try to get more people cycling, local councils took many short-term measures such as temporary cycle lanes. However, there is no guarantee that these will be kept in place. At Coach we'd love for these to become permanent additions – we're eyeing the reduction in air pollution, and the improvement in people's health and wellbeing the country could enjoy with more people cycling. And with more people on bikes and fewer in cars, we're betting there'd be less congestion for the cars that are on the road.
If you're on board with that, it's essential we make our feelings known so local councils are assured they have the backing of the people they work for. One easy way to do that is by signing the Bike Is Best petition (opens in new tab). It's part of a campaign from a collection of leading cycling advocates and brands and it asks if you'll put your name to this simple statement:
Click that statement to be taken to the petition (opens in new tab).
See related
According to research undertaken independently by YouGov on behalf of the Bike Is Best campaign, the majority of people want this. This research found that 77% of British people support measures in their local area to encourage cycling and walking, and 80% of those who expressed a preference want streets redesigned to protect pedestrians and cyclists from motorists.
Perhaps most importantly of all, 51% agree they would cycle more if these changes were made. People want to cycle – they just want to feel safe, and better infrastructure that makes cycling the obvious and easiest choice is central to that.
Will you join us trying to make this happen by signing the petition (opens in new tab)? We hope so.
Coach is the place to come for all your health, fitness, and personal wellness needs.
Sign up for workout ideas, training advice, the latest gear and more.
Thank you for signing up to Coach. You will receive a verification email shortly.
There was a problem. Please refresh the page and try again.