Sustrans's Challenge Rides Are Cycling Adventures Anyone Can Do
By Nick Harris-Fry last updated
Use the National Cycle Network to see more of the UK and enjoy an active holiday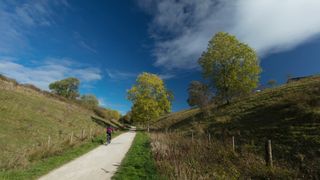 (Image credit: Unknown)
Here's the best idea for a holiday you'll come across this year: go on a long-distance, multi-day bike ride in the UK. You'll see parts of the country you'd never otherwise visit on vacation, enjoy a rewarding level of activity each day, and finish your break energised at what you've achieved.
You can of course grab a map and plot out your own ride, but the smarter option is to tackle one of Sustrans's challenge rides. Sustrans (opens in new tab) is the UK's walking and cycling charity and it looks after the 25,000-plus kilometres of the UK National Cycle Network (opens in new tab). As you can imagine, there are some pretty sweet rides to be found in that 25,000km.
You can find Sustrans's challenge rides on the charity's website, where you can also purchase guidebooks and maps for the routes. To give you more of an idea of what's involved in a challenge ride and how fit you need to be, we spoke to two people who have done at least one of them.
Glynis Francis, community activist, rode the Way of the Roses (opens in new tab) route from Morecambe, Lancashire to Bridlington, Yorkshire, with her daughter in the summer of 2019, while Alistair Millington, land manager at Sustrans, has ridden three of the routes: Devon Coast to Coast (opens in new tab) (C2C), Workington to Sunderland C2C (opens in new tab) and Lôn Llas Cymru (opens in new tab) in Wales.
What makes the challenge rides so good?
We know your holiday time is precious, so we also asked Millington and Francis why using it to do a long-distance ride is worthwhile.
"For us it was about recapturing the spirit of some precious mummy-daughter adventures," says Francis. "It lends itself very well to that. It gave us headspace. The scenery was lovely, and we could talk and talk and talk or ride in silence if we wanted. It's an active holiday but with no stresses in it, because we knew where we were going to stay, plus we had food with us. It was an adventure but we were set up for it.
"It's the most delightful experience. We live on a small island, and going from A to B is deeply pleasing. From Morecambe Bay on the Irish Sea over to the North Sea… you go from valley floors up to moorland tops that are quite scary and eerie when the cloud is down, and you think the world could have ended because there's nobody up there apart from you. Those contrasts are part of the absolute charm of it all."
"I could say a lot of things!" says Millington. "I would say apart from the scenery, it's the paths themselves. Particularly on C2C between Sunderland and Workington, and the Devon C2C, you get to ride some magnificent cycle paths. I can't exaggerate how splendid the riding is. Take the Devon C2C and you will ride alongside tidal estuaries, around the edge of open moorland, through tunnels and over spectacular viaducts. The routes you'll ride on will take your breath away."
How fit and experienced a cyclist do you need to be?
"I don't think very fit or experienced at all," says Millington. "They're all suitable for novice cyclists. If I were to pick one of the ones I'd done to start with, I'd choose the Devon C2C – it's the shortest and least hilly.
"What I would say is that your experience should determine how quickly you want to do it. If you're inexperienced, set very modest objectives in terms of how many miles you want to do per day. Probably not more than 30 or 40 to begin with."
Francis thinks the key is to have some experience of spending a long day in the saddle.
"I think you could do it if you had experience of five hours' cycling in a day," says Francis. "We did it over three days, and five hours can be quite a long time on the bicycle even with nice breaks. It was about 50 miles the first day, then 60 the next day and about 61 on the last day."
What kind of training do you need to do?
This will naturally depend on how much cycling you're already doing and your existing fitness, but Millington suggests building up to rides of around 30-40 miles if you're a complete novice, while those already commuting regularly by bike should try a couple of rides of that length to see how it feels.
"The more you train the more you'll enjoy it, but I wouldn't want to get too hung up on training," says Millington. "If you're already commuting you'll have a good base level of fitness, and I think it's as much about feeling comfortable with your bike and your kit, and its suitability for riding all day.
"Quality is as important as quantity. It's better to do a two-hour hilly ride than three to four hours of flat easy riding."
What kind of bike do you need?
"My daughter used my hybrid and I had a touring, winter bike," says Francis. "The essential bit was that we had panniers and the wheels weren't the slimmest of tyres – they could handle a bit of off-road or rough road sections, as well as ordinary road."
"The biggest issue to consider is your gearing," says Millington. "All the routes are hilly, especially the Lôn Llas Cymru Welsh route which has some big climbs. You want a big range of gears, so you can always gear down when you start to get tired at the end of a day.
"Ideally a touring bike would be best and a hybrid bike would be fine. But I've done all the challenge rides on a racing bike with fairly narrow tyres, so it can be done. It comes down to how fit you are and how comfortable you want to be. You could do it on a Boris Bike if you were fit enough."
What bit of kit would you consider essential?
"My top tip is to look after your bum," says Millington. "You need a good pair of padded shorts, and don't wear the same shorts two days running without washing them first. And even for the experienced cyclist, take a little tub of Sudocrem, so if you do get a little bit saddlesore you can self-medicate. If you can keep the bum happy for however long you're riding, then you'll enjoy it."
Alongside panniers, Francis recommends using a bike computer to follow the route.
"Sustrans has a fantastic map, which we used, and also I put it on a Garmin Edge 810 (opens in new tab)," says Francis. Compared to people she met along the route who asked for help finding their way, she could relax and let the computer keep them on track.
Francis also warns that you need to carry essentials with you because you might end up more isolated than you expect at times. Take food and kit to repair your bike if needed.
"There were sections out on the moorland with quite tough climbing," says Francis. "There are no cafés when you're up on the moorland, and when it's hard work you need snacks! We didn't have any mechanical issues, but I did have inner tubes and I also knew where the bike shops were. I'd plotted that so in the event of something more serious happening, I knew where we'd go to get more assistance if needed."
See related
How useful are the guidebooks?
"They're extremely useful for planning accommodation, rest stops and trying to understand the routes so you can pace yourself," says Millington. "I'm a great fan of guidebooks for many reasons – you don't want to be completing a ride and then thinking 'oh we didn't stop to look at this!' If you're going to make the effort then do a bit of research so you can appreciate what there is to see on the ride."
Francis suggests that if you're riding the Way of the Roses in particular, getting your accommodation sorted in advance is a savvy move.
"I would definitely recommend plotting it out because it's quite busy, quite a lot of people do that route," says Francis. "It's not always easy finding accommodation if you want it just for one night, which you do if you're doing an A to B route, so my advice is to book ahead. Some people like that sense of turning up and not knowing, but I find that a bit stressful. I like to know where my bed is at nighttime!"
Sign up for workout ideas, training advice, the latest gear and more.
Thank you for signing up to Coach. You will receive a verification email shortly.
There was a problem. Please refresh the page and try again.