Savage Turbo Trainer Workouts From Pro Cyclists
By Nick Harris-Fry published
Upgrade your indoor training with these tough turbo sessions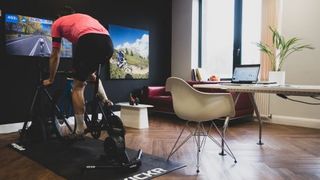 (Image credit: Unknown)
If you use the right sessions, you can make huge improvements in your cycling on the turbo trainer. And what better way to ensure you're doing the right kind of stuff than asking a couple of pro cyclists what they do?
Below you'll find seven brutally effective training sessions: three from former hour record holder Alex Dowsett, who rides for the Israel Start-Up Nation team; two from Continental pro cyclist Rory Townsend, who rides for the Canyon (opens in new tab) DHB Cycling Team and coaches with Grinta Coaching (opens in new tab); and two from Joss Lowden, rider with the Drops-Le Col Cycling Team, which is partnered with Ribble (opens in new tab).
For the workouts you'll need to know your cadence, power output and ideally your own personal functional threshold power and power zones too. (No idea what any of that means? Our beginner's guide to turbo training explains all.) You can try to replicate the power Dowsett puts out in his workouts, though that's probably not a smart idea unless you are a highly accomplished rider, so scale it back according to your own ability.
Joss Lowden's Turbo Training Workouts
Progressive 5min Reps
Begin with a 15-minute warm-up. Take your time building up to high intensity, just above the power level you can hold for five minutes – so really open it up – then do a few more minutes at an easy pace before starting.
Reps 5-6 Time 5min Rest 5min
Start at about 6/10 RPE (95% of your CP60 or FTP), building up the intensity each minute to about 8-9/10 RPE (120% of CP60) for the last minute. Cycle easy between efforts, and warm down at the end with more easy cycling.
"This is a session I like to do when my legs are feeling snoozy and motivation is lacking," says Lowden. "Each five minutes is like a ramp, pushing a bit harder every minute. I like it because it eases you in so by the time you are having to really push each time, you have the blood flowing, the endorphins are there and you feel up for it. But it's not to be taken lightly! It's still five minutes above threshold so of course it's going to be tough."
Zone 2 Sandwich
Begin with a progressive 10-minute warm-up. Build up the intensity, then take a couple of minutes easy at the end.
1 Time 40-60min Effort Zone 2
Keep it steady, you're working, but at a low to medium intensity you can sustain comfortably (3/10 RPE) – maybe watch something!
2 Reps 3 Time 15min Rest 5min
Turn off Netflix, put on some tunes and get stuck into three reps in the sweet spot. This is just below your threshold, so it's a level you should be able to sustain for an hour (6/10 RPE).
3 Time 40-60min Effort Zone 2
Back to zone 2 for another block of 40 minutes to an hour. It might ache a little at first but fuel well and you'll be good to churn away!
Finish with five to 10 minutes of very easy riding to warm down.
"I'm a big believer in training in zone 2 and also at the sweet spot," says Lowden. "It's incredibly good for your endurance and getting a really good aerobic stimulus without causing too much damage or putting you in a hole which can affect the next training session.
"Over the winter when the weather was really bad and it was hard to ride outside to get the hours in, I was really dependent on these sessions on the turbo, so it was important to break up the time to make it more manageable and more interesting. If you have the head for long reps in zone 2 and 3, it does wonders for building a good base. Just be sure to add some shorter, high-intensity sessions to get you firing before race season starts!
"You can break this workout up however you like. You could do blocks of 10 minutes or 20 minutes; you could do three or four blocks. Just don't beast yourself too much in the middle block because you have still got the zone 2 section to finish. It's endurance, so work at an intensity you know you can hold.
"Fuelling well is crucial. You'll get through a lot of energy in this session so have your bottles with carb mix in, have your snacks lined up, and have someone on hand to shout at if you need a top-up!"
Rory Townsend's Turbo Trainer Workouts
Russian Steps
"This is a short, sharp session with nothing held back," says Townsend, "designed to increase your anaerobic capacity and bike fitness.
"Begin with at least a 15-minute warm-up – five minutes' steady riding, five minutes steadily increasing the intensity up to 85% of max heart rate or 7/10 RPE [rate of perceived exertion], then five more minutes of just steady riding.
"Like the title suggests, the session works in steps. The active parts are maximal efforts done as hard as you can go, then the recovery part is an easy pedal but not a complete stop. One set is eight minutes long. The structure looks like this:
15sec active, 45sec recovery
30sec active, 30sec recovery
45sec active, 15sec recovery
60sec active, 60sec recovery
45sec active, 15sec recovery
30sec active, 30sec recovery
15sec active, 45sec recovery
"Then do at least five minutes of easy riding before attempting another set. You can start with one set and build on your fitness until you can take on multiple sets in one workout."
VO2 Max Intervals
"This is a session I would typically include while out on a longer ride," says Townsend. "If you want to challenge yourself, try it after a few hours of riding. It's a session used by some of the guys at Team Ineos, so you could say it has proven results! It is designed to improve muscular endurance – you will feel it in the legs afterwards.
"The active part of this session should be executed just below maximum effort – 9/10 RPE, or for those that have power meters, 125-150% of FTP. You should be able to maintain a similar effort across each repetition. The recovery part should be an easy pedal but not a complete stop. The structure goes like this:
1 Sets 5 Time 60sec Recovery 60sec
2 Recovery 5min
3 Sets 5 Time 60sec Recovery 60sec
"There are a few ways to increase the intensity of this session. You can increase the number of repetitions in each set, increase the number of sets, or decrease the recovery time spent between each repetition."
See related
Alex Dowsett's Turbo Trainer Workouts
Workout 1 – "Big Gears"
Sets 6 Time 6min Cadence 50RPM Power 350W Rest 4min
If you're looking to increase your strength during the winter, you can keep your workouts pretty simple. Not easy, of course, but simple.
"During the winter months a lot of the training is strength-based," says Dowsett, "which means big gears and any variation of multiple minutes on followed by not so many minutes off.
"It's important to do it with a really big gear, a really low cadence and a high resistance. For example: six minutes on, then four minutes off at 50RPM and 350W. I would typically take that on for an hour, so six rounds in total."
Workout 2 – "Disgusting"
1A Sets 6 Time 30sec Effort Sprint Rest 0sec
1B Sets 6 Time 3min 20sec Effort Zone 4 Rest 0sec
1C Sets 6 Time 10sec Effort Sprint Rest 6min
"This one is really tough," says Dowsett, ominously. "It starts off as a 30-second sprint, which is disgusting, but then you go straight from that into 3min 20sec of zone 4, so for me that's 400 watts. And then you round that off at with a ten-second sprint, then six minutes' rest. Do a total of six sets.
"It is hideous. You finish the 30-second sprint absolutely full of lactate. You can't sprint for 30 seconds – it's actually a 15-second sprint, then ten seconds of hanging on and five seconds of crying. And then you have to try to bring that back. You can't rest. You have to then bring that power down gradually to 400W and then sit there. The ten-second sprint to finish is just sprinting on tired legs which you'd do on a regular basis.
"It's like replicating a breakaway – you attack, then you settle in, and then you might have to sprint again."
Workout 3 – "Absolutely Horrendous"
Reps 8 Time 2min Power 530W (adjust for your level) Rest 2min
Heads up – this workout is certainly not one for the faint-hearted.
"It's miserable," says Dowsett. "Just horrendous, absolutely horrendous.
"It's two minutes on, three minutes off. I don't know how the watts are worked out, but it's trying to hold 530W for two minutes, then three minutes' rest. And you do that a maximum of eight times.
"If you get to a point where you can't maintain the power, you stop and do one minute on, three minutes off at the same number. I've never managed more than four lots of two minutes."
Sign up for workout ideas, training advice, the latest gear and more.
Thank you for signing up to Coach. You will receive a verification email shortly.
There was a problem. Please refresh the page and try again.