Rebecca Charlton's Cycling In London Tips For Beginners
By Nick Harris-Fry published
Plan your routes and don't let yourself be rushed if you want to thrive on the busy streets of the capital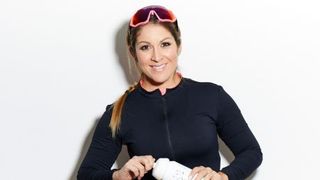 (Image credit: Unknown)
When it comes to successfully navigating the busy streets of London on two wheels, there is no substitute for experience – but what do you do before you've had a chance to build up that experience? You grab someone who does have it and grill them for advice.
Rebecca Charlton, TV presenter, journalist and author of two books on cycling, has been riding in London for 15 years, and she has no doubt what her favourite thing about cycling in the capital is.
"What I love is that you beat the traffic and you turn up to work feeling really smug and good about yourself," says Charlton.
That's not to say Charlton considers cycling in London a universally positive experience – punctures are her biggest hate – and she tends to head out to Kent or find quieter roads when training or cycling for pleasure, rather than commuting. Better cycling infrastructure tops her wish-list of improvements that could be made to cycling in London.
"It would be nice to see more traffic-free routes," says Charlton. "When you get to a section where there's a segregated cycle lane it's absolute bliss, and more of that would be better."
When it comes to the possible dangers of cycling in London, Charlton says preparation is key to staying safe on the road.
"If you arm yourself with as much knowledge as possible and in doing that become a confident rider, you can make sure you are as safe as it's possible to be," says Charlton.
That's good advice for anyone, but we also asked Charlton for her tips specifically for people new to cycling in the capital. It might seem a daunting prospect at first, but follow Charlton's advice and you'll find that it doesn't take much time at all for your confidence to improve.
Five Tips For Beginners Cycling In London
1. Plan your route
"Getting organised means planning your route," says Charlton. "You can avoid major junctions and unpredictable roads, and put yourself in the best position to feel safe.
"When I first started riding in London I used to navigate the most crazy routes – roundabouts, multiple lanes, major roads… I didn't want to be suddenly coming up to junctions I don't know, in the middle of traffic, and be forced to navigate and make very quick decisions.
"If you are dealing with the unexpected it can make you feel vulnerable and put yourself in a position on the road where you don't want to be. Sit down and plan how to get to work without having to go through places you don't know."
2. Ride your route with an experienced cyclist
"Something else I did when I had a new commute is that I would find somebody else who had done that commute before," says Charlton. "If you can grab a colleague, a friend or a partner and do that ride with them, maybe after work one night when it's a bit quieter, you can see where you should be on the road and when you're going to come up to a roundabout or busy junction. It helps you plan."
3. Don't get bullied
"Don't allow anybody else to pressure you into a position on the road that you're not comfortable with," says Charlton. "There are more cyclists on the road now and that's a great thing, but some of them will tut at a newer rider who won't move out the way or move up on the inside of a bus. That leads people to panic and make a judgement they'd not normally go with. If you're not comfortable and not 100% sure it's the right move for you, don't let anybody else pressure you into doing it."
See related
4. Give yourself time
"Allow plenty of time," says Charlton. "The more you rush, the more likely you are to make poor decisions."
5. Choose your cycling clothing wisely
"Allow plenty of time," says Charlton. "The more you rush, the more likely you are to make poor decisions."
"You might want to to go full Lycra or just office gear, but make sure you don't have anything flapping around that could get caught in a wheel or a chain," says Charlton. "That will distract you from focusing on what you're doing. And make sure you're comfortable."
Rebecca Charlton will be appearing at The Cycle Show which is taking place at Birmingham's NEC Arena from 28th-30th September 2018. For tickets and more information visit cycleshow.co.uk (opens in new tab)
Sign up for workout ideas, training advice, the latest gear and more.
Thank you for signing up to Coach. You will receive a verification email shortly.
There was a problem. Please refresh the page and try again.