Six Real-Life Benefits Of Cycling To Work
By Nick Harris-Fry published
Three people who made the switch to a two-wheeled commute describe the biggest benefits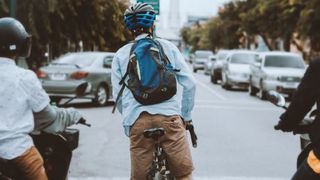 (Image credit: Unknown)
In This Series
Six Real-Life Benefits Of Cycling To Work
If you commute by car or public transport, switching to cycling to work instead is one of the best things you can do to make yourself happier. You heard us. Happier. A lot of that has to do with becoming healthier and saving money, but there are plenty of other benefits that bring a smile to your face, too.
To illustrate the point, and to celebrate ten years of Evans Cycles's Ride-to-Work scheme (opens in new tab), reps from the cycle shop went to the northwest of the UK to speak to people who make their way to work on a bike and asked them how it has affected their lives. Here are some of the benefits they picked out.
You'll lose weight and become healthier
"I used to be a 6ft 4in, 23-stone [146kg] rugby player and didn't ever feel I was unfit, but looking back I was," says Graham Robinson, a police officer based in Warrington.
"My food and drink intake wasn't the best, and following a knee injury that stopped me from playing rugby, my physical health hit a low point. I can attribute my change in health to cycling to work. I dropped down to 15½ stone [98.5kg] and now maintain a weight that is much healthier for my height."
Yasmin Green, a social worker from Greater Manchester, told Evans Cycles that "I had visited my physio about ongoing back pain, and they quite brutally told me that I was overweight and that the pain wouldn't be relieved unless I lost weight.
"It was harsh and really took me aback, but at the same time it was a real awakening and certainly worked in getting me active. That was definitely the catalyst behind me cycling. Since starting to cycle to work I've lost three stone [19kg] in total and I am in a much healthier state than I previously was."
Andrew Thornley, owner of a design agency in the northwest, had a similar experience. "Before I started cycling to work I was really, really unhealthy.
"Because of my job I was driving all the time, eating food at service stations and, in general, leading a life that wasn't doing me any good. Since I started cycling to work my life has changed massively. When I think back to where I started from – not being able to walk up a flight of stairs particularly quickly without getting out of breath – to where I am now, it couldn't be more different.
"I've really worked hard on cycling as many days as I can, to a point where I'm now actually taking part in competitive races. As a result, my weight has dropped significantly, meaning I'm a much happier and healthier person all round."
RECOMMENDED: The Best Cycling Backpacks For Commuters
You arrive at work with a clear head
"As soon as I get on the bike and that first mile is out of the way, I've got a completely clear head to think about what I'm going to do that day and what I've already achieved that week," says Robinson. "It's great – you truly get that headspace to think.
"In the mornings it also wakes me right up and I feel alert when I wouldn't have before. I arrive at work fully prepared, switched on and ready to get moving with the day. As a result, I'm much better both at work and when I return home."
"Driving before or after a busy day would really stress me out," says Thornley. "As everyone is in the same boat, being stressed and in a rush, no-one has any time for one another. There are beeping horns, shouting, swearing. In short, it's not a pleasant experience, so didn't make me feel good at all."
It's cheaper than driving or getting public transport
"I'm saving money left and right by not needing to drive my car to work," says Robinson.
"I've used the Ride-to-Work scheme twice now and am just about to use it for a third time," says Thornley. "I think it's a brilliant idea. It's something I would recommend to anyone that's thinking about getting into cycling, or simply looking to get a better bike, but maybe can't afford a large, one-off outlay."
It's often faster than driving
"The first thing that made me think about starting to cycle to work was noticing just how fast and fluidly cyclists would be passing me as I was sat still in traffic," says Green.
"They would be effortlessly passing through the traffic and, I imagined, would be arriving well before I was in my car. I would look at them and say to myself, 'I should be out there with them'."
You'll discover new places and meet people
"It hasn't only been a physical thing," says Green. "Cycling has helped me to explore new places that I've never seen before and meet a whole new set of friends."
Cycling is a great family activity
"Now, I don't have any worries about health problems and can simply focus on my family," says Robinson. "My change even inspired my wife and now we all go on bike rides. I love that I can share cycling with my children, and I look forward to seeing my grandchildren out riding one day too!"
Sign up for workout ideas, training advice, the latest gear and more.
Thank you for signing up to Coach. You will receive a verification email shortly.
There was a problem. Please refresh the page and try again.