Reflective Cycling Gear To Keep You Riding In The Dark
By Charlie Allenby last updated
Just because it's dark in the evening doesn't mean you need to stop cycling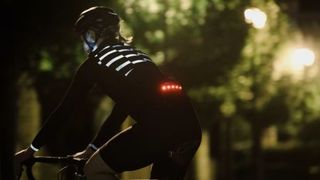 (Image credit: unknown)
As the days get shorter and the weather starts to turn cold and wet, going out on a bike might seem like something reserved for the hardiest (read: oddest) people out there. But riding your bike in the UK doesn't have to be restricted to the months when the sun is shining and the days are long. In fact, with the right gear, it can be a year-round pursuit that's just as enjoyable in winter as it is in summer (well, almost).
As well as a cycling jacket (opens in new tab), it's a good idea to invest in some gloves (opens in new tab) and bib tights or trousers to keep you warm and dry, while cycling lights (opens in new tab) are a must to be seen on the road. For added visibility, which is sometimes vital in winter it's worth looking into products with reflective detailing. Here's our selection of the best cycling gear to make you stand out on drab, dark days.
---
Reflective Cycling Jackets
Proviz REFLECT360 CRS Plus Cycling Jacket
(opens in new tab)
Proviz is a brand that's all about reflectivity. The outer layer of this jacket is made from a 100% reflective material that is essentially made up of thousands of glass beads. When a beam of light hits each one, it reflects straight back, lighting up the whole jacket and turning you into a beacon in the dark. Unlike normal hi-vis jackets, the Reflect360 is a subtle grey colour when it doesn't have a light shining on it, meaning it can slip inconspicuously into any environment. Waterproof, windproof and breathable, it's the ultimate winter commuting cycling jacket.
Buy men's from Proviz (opens in new tab) | Buy women's from Proviz (opens in new tab) | £119.99
---
(opens in new tab)
Rapha's cycling clothing generally turns heads for all the right reasons, but this jacket from the premium British clothing brand has a high-vis pink colourway that ensures even distracted drivers will take notice. If that wasn't enough, a reflective logo and dotted design on the back of the jacket sit just below a rucksack and in the eyeline of motorists – making sure you stay safe and seen. Like the offering from Proviz, the Rapha Commuter is waterproof.
Buy men's from Rapha (opens in new tab) | Buy women's from Rapha (opens in new tab) | £100
Reflective Cycling Gloves
Pedal Ed Hikari Thermo Reflective Gloves
(opens in new tab)
Riding in the dark means you're most likely to be out in the colder months of the year. When investing in a good set of cycling gloves for the winter season, additional visibility goes a long way, and can come into its own when making hand signals. The whole of the back panel of the Japanese-designed, Italian-made Hikari Thermo Reflective Gloves from Pedal Ed are covered in a reflective finish, which also doubles up as a wind blocker. Warm yet breathable, these high-vis gloves leave rivals firmly in the shade.
Buy from Pedal Ed (opens in new tab) | £65 (currently reduced to £52)
---
Gore Wear M Windstopper Thermo Gloves
(opens in new tab)
Gore's products are renowned for their wind- and waterproof protection. Its Windstopper Thermo gloves are the perfect accompaniment for winter riding, but are breathable enough to be worn into spring as well. They're available in three colourways, each with reflective detailing, but the black/neon yellow set is best if you want to add a splash of hi-vis fabric to your on-bike wardrobe.
Buy from Wiggle (opens in new tab) | £69.99 (currently reduced to £59.99)
Reflective Cycling Backpacks
Altura Thunderstorm City 30 Backpack
(opens in new tab)
We've previously mentioned why it might be a good idea to switch from a cycling backpack to an alternative luggage set-up in our pannier bag round-up, but if you're still wedded to the idea of a rucksack, then it's hard to get more reflective than the Thunderstorm City 30 from Altura. The bag has 360° visibility and even has attachment points to add some lights into the mix. Waterproof to IPX6 (meaning it'll protect its contents from a powerful downpour), it's a safe haven for your laptop and clothes on your ride to and from work.
Buy from Halfords (opens in new tab) | £56.99
---
(opens in new tab)
If you are too attached to your non-reflective rucksack to buy the Altura Thunderstorm City, this high-vis, reflective cover is worth picking up for the winter months.
Buy from Freewheel (opens in new tab) | £34.99 (currently reduced to £5)
See related
Reflective Cycling Accessories
(opens in new tab)
Most reflective accessories help you stay seen by other road users who are in front or behind you. But it's important not to forget about your side-on visibility, which is especially important when crossing road junctions. These neat stickers can be applied to any set of wheels (yes, even super-expensive carbon fibre ones) and transform your bike into something from Tron after dark. Visible from 400m, they should make you noticeable to even the most distracted driver.
Buy from Condor Cycles (opens in new tab) | £15.99
---
Chrome Industries Cycling Hat
(opens in new tab)
They might seem like the ultimate hipster accessory but the casquette (or cycling hat) does more than just look stylish. It's great for keeping sweat at bay and the sun off your head on hotter days, but come winter, this number from Chrome Industries can help keep you seen too. Whether you wear it under a helmet or on its own, the reflective fabric provides your noggin with some all-round visibility.
Buy from Chrome Industries (opens in new tab) | From £21
---
Oxford Bright Bands Reflective Arm/Ankle Bands
(opens in new tab)
There's no getting around the fact that these bands aren't the coolest look, but they will certainly help you stay seen – especially when worn on the ankle, where the constant pedalling motion will make them hard to miss for drivers.
Sign up for workout ideas, training advice, the latest gear and more.
Thank you for signing up to Coach. You will receive a verification email shortly.
There was a problem. Please refresh the page and try again.