Our 10 All-Time Favourite Inspirational Quotes About Cycling
By Chris Sayer published
Words of wisdom to have you leaping behind the handlebars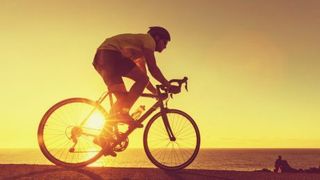 (Image credit: Unknown)
Take a look out of the window. Or eye up your schedule for the day. Or even just give your legs a quick rub. Little bit grey out there? Diary packed out? Thigh still a little achy from five-a-side? Of course it is. It always is, but especially when you're trying to schedule yourself some time for yourself.
You know as well as we do that life likes to get in the way of you doing what you love. Be it a run around the block, a trip to the pool, a session in the gym or even just a stroll through the park with your pooch, there's always an excuse gnawing away at your brain.
But if it's some one-on-one time with your bicycle you need, then we've got just the thing for blocking out all those motivation-sucking negatives that little voice is whispering inside your head.
Plucked from the minds and mouths of legends of the sport, intellectual thinkers and inspirational people, our ten favourite inspirational quotes about the pains and pleasures of cycling will have you reaching for the Lycra before the day's out, no matter how many excuses you're giving yourself…
"When your legs scream stop and your lungs are bursting, that's when it starts. That's the hurt locker. Winners love it in there." – Chris McCormack, triathlete and Ironman
"Get a bicycle. You will not regret it if you live." – Mark Twain, author
RECOMMENDED: How To Cycle Faster For Longer
"One of the most important days in my life was when I learned to ride a bicycle." – Michael Palin, comedian, author and Python
"When the spirits are low, when the day appears dark, when work becomes monotonous, when hope hardly seems worth having, just mount a bicycle and go out for a spin down the road, without thought on anything but the ride you are taking." – Sir Arthur Conan Doyle, British author and creator of Sherlock Holmes
"Nothing compares to the simple pleasure of riding a bike." – John F Kennedy, former president of the USA
"Cycling isn't a game, it's a sport. Tough, hard and unpitying, and it requires great sacrifices. One plays football, or tennis, or hockey. One doesn't play at cycling." – Jean de Gribaldy, French professional road cyclist
"The race is won by the rider who can suffer the most." – Belgian cyclist Eddy Merckx, five-time Tour de France winner
RECOMMENDED: The Best UK Cycling Events
"Bicycling is a big part of the future. It has to be. There's something wrong with a society that drives a car to work out in a gym." — Bill Nye, US scientist (aka Bill Nye the Science Guy)
"You always know when you're going to arrive. If you go by car, you don't. Apart from anything else, I prefer cycling. It puts you in a good mood, I find." – Alan Bennett, playwright and author
"Cycle tracks will be abound in Utopia." – HG Wells, legendary sci-fi author
Craft beer drinker, Devonian, fisherman and former content director of Coach online, Chris contributed style coverage and features between 2016 and 2019.
Sign up for workout ideas, training advice, the latest gear and more.
Thank you for signing up to Coach. You will receive a verification email shortly.
There was a problem. Please refresh the page and try again.