Five Great Cycling Videos Including One That Has A Kangaroo
By Nick Harris-Fry published
Share your own best footage caught on Cycliq cameras and you could win prizes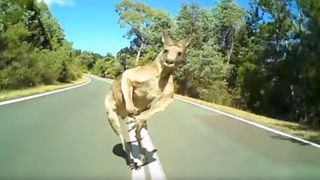 (Image credit: Unknown)
When footage caught on cycling cameras goes viral it's generally for all the wrong reasons. The two most common reasons being altercations with terrible drivers being bastards, or, as in this instance, catching a thief in the act.
To help counter that, Australian company Cycliq runs a monthly competition that showcases the best videos caught on its HD camera/light combination devices.
To enter the monthly competition you simply have to share the finest footage caught on a Cycliq device – the current range includes both front-and-back light-and-camera devices. Whether that's an amazing bike trick, stunning natural surroundings or an unexpected but harmless encounter with an animal (the best kind of video, in our humble opinion), send it to Cycliq (opens in new tab) and you could win prizes and/or discounts on more Cycliq products. Then you can use those devices to film more videos and win more prizes. The prizes will never stop.
For some inspiration on what to send in, here are the top five videos captured by Cycliq users so far – only one of which is a thief ruining someone's day.
See related
Roo Rage
We promised a kangaroo, and now we're going to make good on that promise.
Llamas In Peru
While llamas are objectively not as impressive as a kangaroo, this video does also boast some impressive scenery.
Bike Theft
This is less joyous than kangaroos or llamas, but you can cheer yourself up with the thought that this thief was caught on camera and so hopefully brought to justice swiftly. Also, if your bike is that nice, maybe lock it?
Bunny Hop Fail
To be fair, the bunny hop is completed successfully. The fail follows quickly afterwards.
When Bicycles Become Boats
To our eye, seasoned by years of cycling in sun-starved Britain, this just seems like a regular ride on a rainy day. But Cycliq is an Australian company so they probably don't see much rain, which could give Brits a crucial advantage when it comes to entering winning videos in the competition.
Sign up for workout ideas, training advice, the latest gear and more.
Thank you for signing up to Coach. You will receive a verification email shortly.
There was a problem. Please refresh the page and try again.