Why Cyclist Richie Porte Swears By Swimming
By Nick Harris-Fry last updated
Elites and amateur athletes alike can benefit from a dip in the pool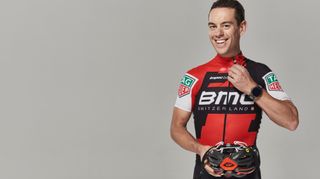 (Image credit: Unknown)
Whatever your main sport is, be it cycling, running or table tennis, it's always worth adding cross-training to your schedule. And of all the activities to choose from, swimming is far and away the best option, most notably because it helps develop and maintain whole-body fitness without putting pressure on any of the joints that take a pounding in your sport of choice.
Take Richie Porte, pro cyclist with the BMC Racing Team, who faces a punishing training schedule throughout the year as he builds up to major events like the Tour de France. He uses swimming both as a break from his routine and as a low-impact way to maintain fitness.
Porte is an ambassador for Speedo's #Make1KWet challenge (opens in new tab), which aims to get runners and cyclists into the water and swimming to improve their overall fitness and performance in their chosen sport.
RECOMMENDED: Become A Better Runner By Taking On The #Make1KWet Challenge
Coach spoke to Porte a few weeks after his horrific crash on stage nine of the Tour, which fractured his collarbone and pelvis and ended his challenge for the yellow jersey.
First, how's your rehab going?
I'm getting better. It's just my collarbone now – I'll go for X-rays today and find out if I can get back on the bike.
How much training do you off the bike?
It's more during the off-season and at the start of the season, from October through to January. That's when I do more swimming. Obviously now it's going to be a tool for rehab as well.
Can swimming help build your fitness after an injury?
It definitely helps. There wasn't really anything I could do with the injury I've had since the Tour – I wasn't really allowed out of the house. Now, hopefully, I'll get the all-clear, but the doctor said 30 minutes on the home trainer will be about all the cycling I can do.
I can't do too much with my arms with the collarbone still not fully healed, but if I can get myself to a swimming pool I can work on my general fitness with the kickboard.
Why do you swim for your cross-training?
To be honest, it's probably because it's what I did as a kid. I swam, so it's always been easy to get back into the pool. For people that haven't swum as kids it's a bit daunting, but swimming is one of those sports that if you persist, within a few good months, you're going to see massive gains. You can learn to swim pretty quickly.
RECOMMENDED: Two Insanely Helpful Swimming Technique Tips That'll Make You Enjoy Front Crawl Again
Were you a competitive swimmer as a kid?
I was. I wasn't fantastic but I did compete.
How's your running? You could be a mean triathlete.
Terrible!
Do you swim as a break from the bike or as an active way to improve your fitness?
It's a bit of both. Obviously when cycling is your job it's nice to do something other than ride your bike to maintain or gain some fitness. It's good for that. It's just nice to do something else and break it up as well.
One of the ideas of #Make1KWet is to swim 1km as fast as you cycle 10K. I guess you cycle 10K very, very fast, so do you think you could match it with 1km in the pool?
I've never really tried that, but that's not a bad idea! I reckon I would get close.
What are your plans for the rest of the year?
I wouldn't mind during the Tour of Britain, but I'm not sure the team are so keen on that. It's a month away now [it starts on 3rd September] and having been off the bike for over three weeks it might be a bit hard. We've just got to see, take it day by day – the old cycling cliché. But I'd like to do some racing before the end of the season. I won't be racing for any wins, but just to get back into the groove of things.
For Richie Porte's swimming tips, visit speedo.com (opens in new tab)
Sign up for workout ideas, training advice, the latest gear and more.
Thank you for signing up to Coach. You will receive a verification email shortly.
There was a problem. Please refresh the page and try again.